Photo by Monivette Cordeiro
Dozens of people streamed through the second floor of the Orange County Regional History Center, mostly in tears, as they toured the Pulse One Orlando Exhibit on the one-year mark of the massacre that left 49 people dead.
White crosses, rosaries, an IKEA couch covered in writing, teddy bears and more than 200 iconic items are on display at the center beginning June 12 through June 17. Most of the tributes were collected from memorials at the Dr. Phillips Center, Lake Eola and the shuttered gay nightclub Pulse, the site of the June 12 attack where a gunman opened fire on people who were just having fun on "Latin Night." The exhibit not only captures the sorrow and heartbreak in Orlando that day, but also the feelings of love and creativity expressed after the tragedy and in the months since. Curators have collected and preserved more than 5,000 memorial and tribute items after the mass shooting.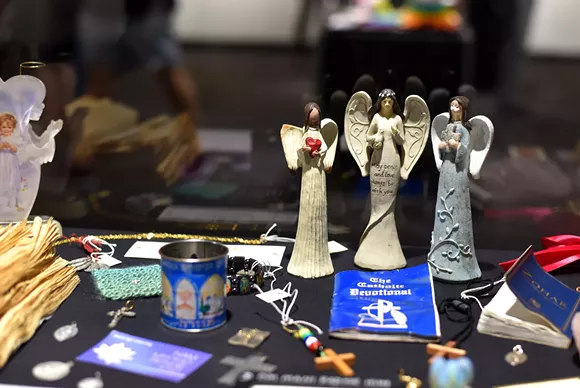 The history center also launched on Monday the
One Orlando Collection
, digital gallery currently filled with photographs of 600 tribute items left to honor the Pulse victims, their families and survivors. For weeks, staff was out in the hot sun, cleaning candle wax and other debris from the things mourners left behind. Michael Perkins, the history center's executive director, says in the future, they people will be able to find a tribute they left online and tell the story behind the item. Some items, like rosary beads from the Vatican a woman left behind, have stories the history center already knows, but they'd like to find out the sentiments behind more tributes.
"I think the fascinating stories are those individual item stories," he says. "I think the big story is we don't know the stories – and there could be 4,000 more stories like that in here. We could be looking at some amazing stories right now, we just don't know. That's where the real meaning to the collection will arise."
In a statement, Orange County Mayor Teresa Jacobs says the Pulse tragedy is a permanent part of history and a story that will always be told.
"Through the One Orlando Collection, we have the chance to tell the other side of the story – how our community reacted with compassion and understanding to this senseless act of violence and hate, and how Central Florida reacted with unity, resilience and strength in caring for our shattered brothers and sisters within the LGBTQ, Latinx and Hispanic communities, as well as the loved ones of those who were lost," she says. "We hope to educate and inspire future generations so that this tragedy is never again repeated."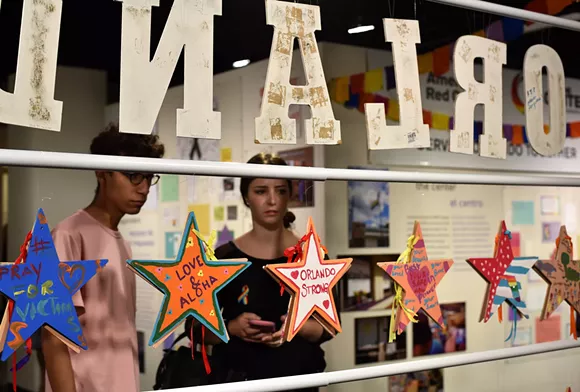 Photo by Monivette Cordeiro