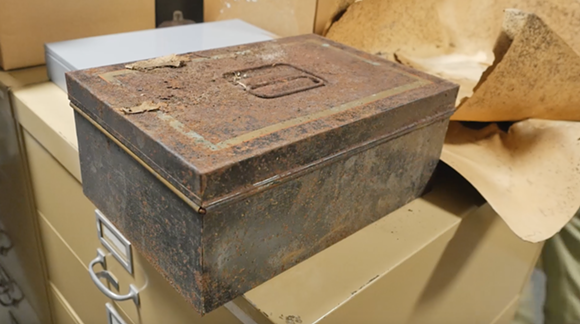 Photo via City of Orlando
Florida's chapter of the United Daughters of the Confederacy wants ownership of the time capsule found inside of the Confederate monument that was removed this week from Lake Eola Park.
The controversial "Johnny Reb" statue that stood in Orlando's public park for over 100 years was dismantled Tuesday for its move to the Confederate veterans section of Greenwood Cemetery. The city decided to move the controversial monument after some residents said the statue was a racist symbol of white supremacy and slavery. As city workers took apart the monument, they found a light, rusty box in the statue's base that likely contains photographs and documents, Greenwood sexton Don Price said.
WKMG 6
reports Patricia Schnurr, of the United Daughters of the Confederacy Florida chapter, says the time capsule should belong to the Confederate group because they were the ones who put the box there. The monument was originally placed on Magnolia Avenue in 1911 after it was commissioned by a local chapter of the United Daughters of the Confederacy.
The box hasn't been opened yet, but Schnurr told
WKMG 6
that the time capsule contains a Confederate battle flag, Confederate money, a framed picture of Gen. Robert E. Lee and some type of certificate, according to that chapter's history.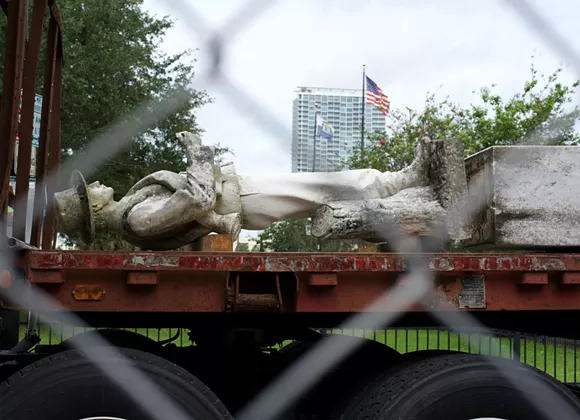 Photo by Monivette Cordeiro
The city is currently developing a process to evaluate everything related to the time capsule, including ownership and the best way to open it without damaging the contents, says Cassandra Lafser, spokesperson for Orlando Mayor Buddy Dyer's office. City officials have also been working to set up a meeting with Schurr.
"Once we complete this due diligence and establish this process, we will share this information with the community," Lafser says in a statement. "While there isn't an official blueprint that exists for opening a time capsule, what we do know is that this is not a process we are going to rush."