Faithful readers of this site know that we publish
galleries of adoptable cats and dogs
from the Orange County Animal Shelter twice a week, thanks to the generosity of Pawsitive Pet Photography. A couple of weeks ago, one poor shelter dog in particular got quite a lot of attention.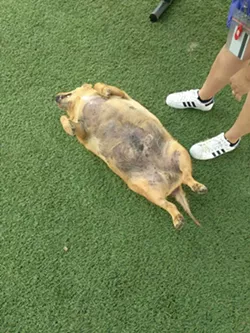 Meet Puff Pastry, aka A182349.
Puff was adopted from the shelter as a puppy seven years ago. When he was found as a stray last month, attempts were made to contact his owner (he's microchipped), but efforts proved futile. But this week Puff got some good news when he was rescued by the Central Florida Animal League, where he will undergo an extensive health regimen (sort of like a doggy version of
The Biggest Loser
, without all the yelling and lycra) in hopes of getting back to a healthy weight so he can run and play again.
CFAL has started a
Facebook page tracking his transformation
, and has this to say about Puff's background:
We have been asked what breed he is. Unfortunately, due to his incredibly excessive weight, we have no idea what he is! Our best guess is possibly Chihuahua/Dachshund mix but it is very hard to tell. He is a short guy. He should weigh probably 25-30 pounds but at his vet checkup today, he tipped the scale at 66.2 pounds!!!! Everyone is shocked by his appearance. His bloodwork all came back normal, which was shocking, but a urine sample was sent out to cover all bases to rule out any other underlying medical issues. However, as it looks right now, he is perfectly healthy with no medical reason to explain his obesity. Someone simply overfed him and likely fed him a steady diet of horribly unhealthy food. He will be started immediately on prescription diet food and joint supplements. This is day 1 but today is probably the most important of his life. His journey to health starts now!




What's that? No, my eyes are just watering because my allergies are really bad right now.