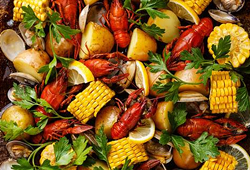 Image courtesy of The Ravenous Pig
Just pretend those crawfish are shrimp...
We love the monthly
prix fixe
pig roast at the Ravenous Pig and
we are so glad it's back
. We're even more stoked that this month, the restaurant is eschewing the traditional roast in favor of a
New England-style clam bake
.
On Saturday, from 11:30 a.m. to 3 p.m., the Pig is pairing up with Central Seafood Co. to bring a $20-per-plate feast to Fairbanks Avenue. You'll get a mix of clams, shrimp, potatoes, sausage and corn to chow.
A Belgian tap takeover will run concurrently and draught beer is just $5 per pint.
If there's anything we know Winter Parkians own in spades, it's Sperrys and seersucker. This is the time to outfit yourself like your nickname is "the Cap'n" and make like you've come to the Cape for a wicked good time.