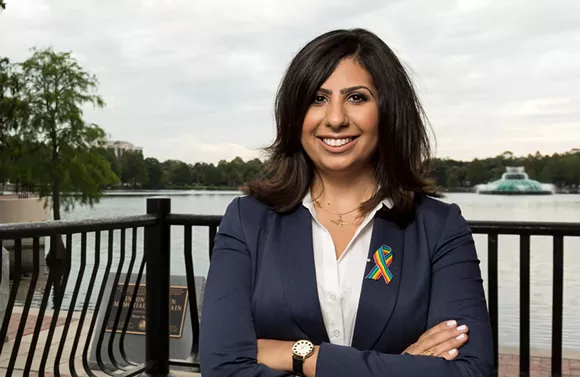 Photo via Anna V. Eskamani campaign
Orlando progressive leader
Anna Vishkaee Eskamani
announced Monday her run for Florida House District 47.
The seat is currently occupied by state Rep. Mike Miller, R-Winter Park, who reportedly plans to run for Congress. House District 47 runs through Winter Park to Orlando and Belle Isle.
"As an Orlando native and daughter of immigrant parents I have worked relentlessly to protect all Floridians through effective advocacy, bold leadership, and strategic management," Eskamani says in a statement. "As a tough, authentic and unabashed Democrat I will work hard to delivers results and gets things done for the people of House District 47 and for Floridians across our great state."
Eskamani, 27, teaches at the University of Central Florida where she is also a PhD student in public affairs. Additionally, she works as the senior director of public affairs and communications at Planned Parenthood of Southwest and Central Florida. Earlier this year, she and twin sister Ida Vishkaee Eskamani, a legislative aide to Orlando state Rep. Carlos Guillermo Smith, were chosen as part of
Orlando Weekly
's "
People We Love
" series. The Iranian-American sisters have been involved in politics since they volunteered on the Al Gore campaign at 10 years old. Since then, this organizing duo has become a progressive powerhouse in the Central Florida region.
Eskamani says her campaign will prioritize gun safety, equality, the economy and jobs, natural resources, public and higher education, and health care access to win House District 47.
"I represent the Democratic Party's future; firm progressive values and a track record for getting things done and building bridges for all hardworking Floridians," Eskamani says in a statement. "This is about winning elections and leading real social change. The Republican led legislature – now coupled with the dangerous Trump agenda – is hurting families. It's time for a new progressive generation to pave the way."