THIS LITTLE UNDERGROUND
Zeena Parkins, Timucua White House, July 10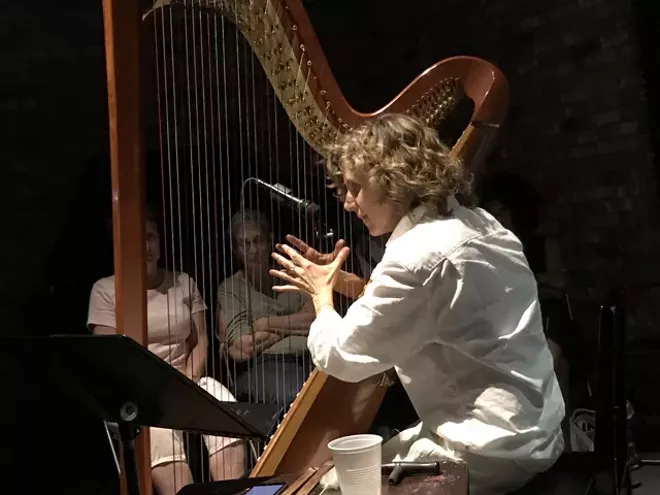 Zeena Parkins at the Timucua White House
Again, the mighty congress of the
Atlantic Center for the Arts,
the
Civic Minded 5
and the
Timucua Arts Foundation
produces another very special presentation. Any time you see an event bearing the name of any of these arts organizations, it's worthy of note. But when they work in league, it's
essential.
The appearance of prominent avant-garde harpist
Zeena Parkins
was the latest outreach performance by the great
Master Artist-in-Residence Program
at the ACA, and the fruitful partnership between these groups is what brings these extraordinary master performances to Orlando. The last time I attended one was the
dazzling show
by experimental pianist
Myra Melford
last May. So whenever you see one of these events listed, do it. Possibly, your jaw will be dropped. Certainly, your mind will be expanded. Either way, you will be transformed.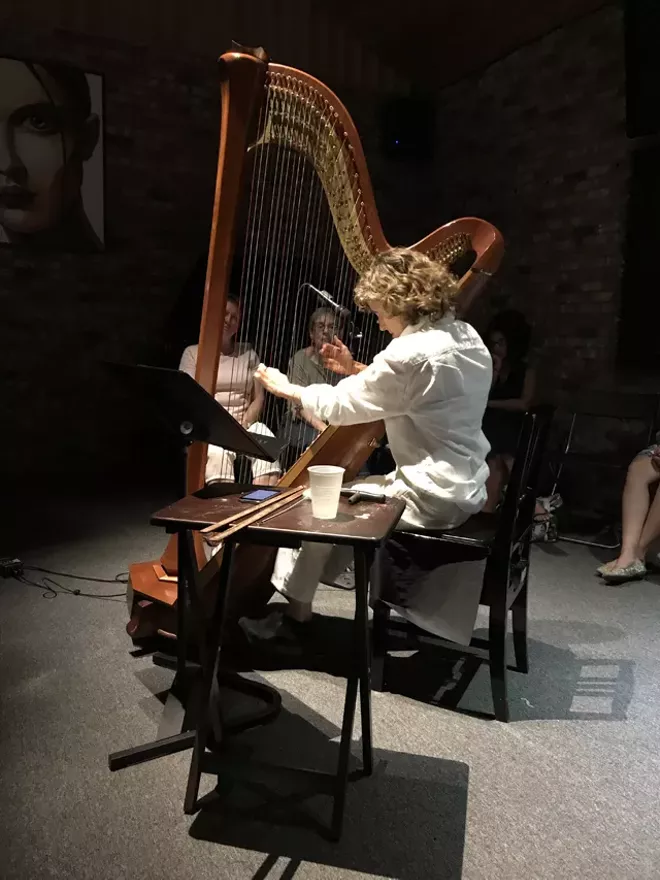 Zeena Parkins at the Timucua White House
That Zeena Parkins is the second experimental harpist I've seen this year in concert probably belies the actual number of these pioneers. Like
Mary Lattimore,
who played Orlando back in February with
Parquet Courts
and in November with
True Widow
, Parkins sports a weighty collaborative résumé that includes
John Zorn, Yoko Ono, Björk, Thurston Moore
and
Matmos.
But Parkins is even more of an original gangster than Lattimore, with a career that reaches back to the '80s New York City scene.
Zeena Parkins at the Timucua White House
Immediate proof that this was not going to be an ordinary show was that about a dozen chairs were placed
onstage
surrounding the artist – at Parkins' request – for any audience members game enough to take them. So there I was, stage left.
Though famed for her work with electric harp, this performance was acoustic. As much of a bummer consolation prize as that may sound, she truly embraced the acoustic format, wielding its dynamics and plumbing its depths, like when she
dipped her fingers in water
to make them glide over the strings to whisper a gossamer and otherworldly melody.
Like any true and forward practitioner of new music, concept and technique that's wildly progressive is Parkins' calling card, something demonstrated liberally in the compositions she developed while in residency here in Florida.
During one piece, she essentially explored the harp's anatomy, including its non-musical parts, with a metal pipe brush. In another, her use of flat wooden sticks as bows looked and sounded as if she was sawing down her very own instrument of creation.
No, this is not your pearly gates kind of fare. Nothing is easy about this listening. In fact, it's not even particularly lovely. It can be tense, violent, eviscerating.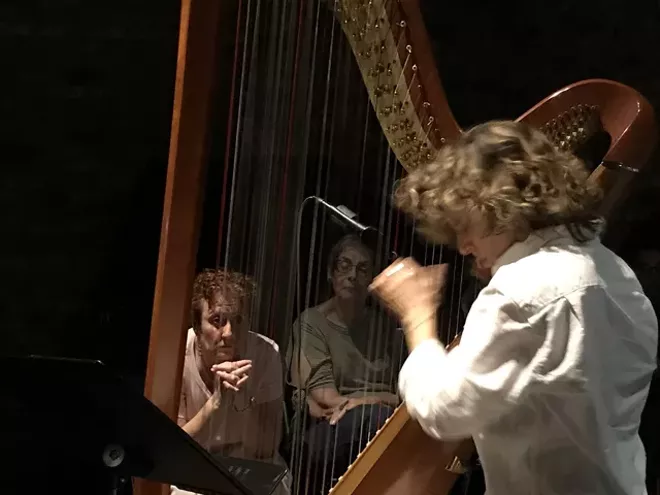 Zeena Parkins at the Timucua White House
But for those yearning for more conventionally beautiful harp music, there was the crystalline
Lou Harrison
piece she concluded with. Even so, she had people – associate artists from the ACA program – planted throughout the room who gradually and surreptitiously added ambient accompaniment with such subtlety that it took me and what looked like most of the audience minutes to realize that it wasn't some other domestic sounds from the Glazers' adjoining home accidentally bleeding over into the performance. It was appropriately
disorienting.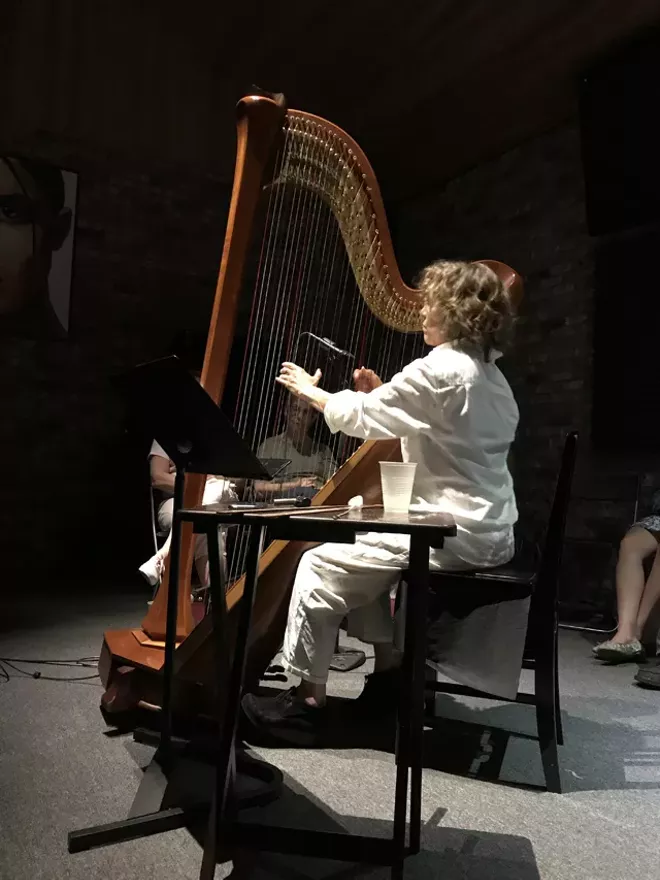 Zeena Parkins at the Timucua White House
Parkins' work is the kind of
truly modern musical language
that's predicated on very little traditional historical reference. A collision of classical training and vanguard spirit, this is finally a vision and expression of the harp that's equal to the instrument's physical command. And it brought down the house.
Zeena Parkins at the Timucua White House
///////////////////////////////////////////////////////////////////////////////////////
This Little Underground
is Orlando Weekly's music column providing perspective, live reviews and news on the city's music scene.

Follow Bao on Twitter (@baolehuu)
Email Bao: baolehuu@orlandoweekly.com