If you recall, when Levy Restaurants closed Portobello Country Italian Trattoria at Disney Springs this past April,
they announced that a new concept by James Beard Award-winning chef Tony Mantuano
would replace the aging restaurant.
That concept is Terralina Crafted Italian, "inspired by the design and lifestyle of Italy's Lake District" with dishes, says Mantuano, that "embody the passion and flare of the flames."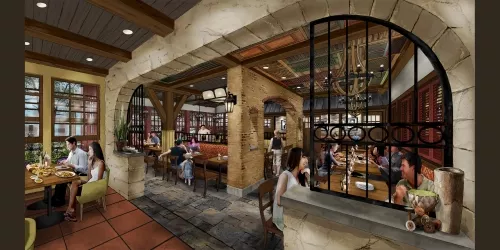 Mantuano is referencing the restaurant's wood-burning oven, which will fire up hand-tossed pizzas and, according to the press release, "fresh vegetable dishes." Portobello's signature antipasti and pasta dishes (many developed by Mantuano himself) will remain on the menu alongside new dishes like mussels and pork chops.
The ambience will take on a more tranquil theme with the kitchen serving as the centerpiece around which guests gather, "just as in an Italian home." Dining spaces will feature an "eclectic" decor with various "found" objets d'art scattered about. A newly installed veranda bar will be situated near the entrance of the restaurant.
Justin Plank (former executive chef of Harvey's Bistro, Wolfgang Puck Grand Cafe, Hue, and Chef Justin's Park Plaza Gardens) will serve as the restaurant's executive chef.
Levy Restaurants also operate Paddelfish and Wolfgang Puck Grand Cafe at Disney Springs.
Terralina Crafted Italian will open in The Landing at Disney Springs this fall.
For more, visit
levyrestaurants.com
and read our
18 Questions with Tony Mantuano
interview.