Photo by Monivette Cordeiro
Jessica Realin, center, and lawyers representing her husband, Gerry Realin.
An Orlando Police officer diagnosed with post-traumatic stress disorder after responding to the Pulse massacre was granted a disability pension by the city board Thursday.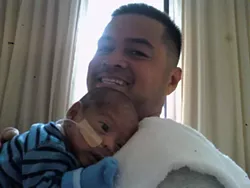 Officer Gerry Realin worked for hours with the department's hazardous materials team among the carnage to remove the bodies of the 49 victims after the mass shooting last year at the gay nightclub Pulse. Realin, who worked with OPD for 12 years, took leave from his position shortly after the massacre and has since supported his family on interim disability leave and paid time off days. The department offered him a different desk assignment at City Hall, but Realin did not take the job. Last month, Orlando Police stopped paying Realin after announcing that he had reached the maximum benefit under the department's policy. His wife, Jessica Realin, says five doctors have concluded her husband is "permanently and totally disabled" as a result of his work that day.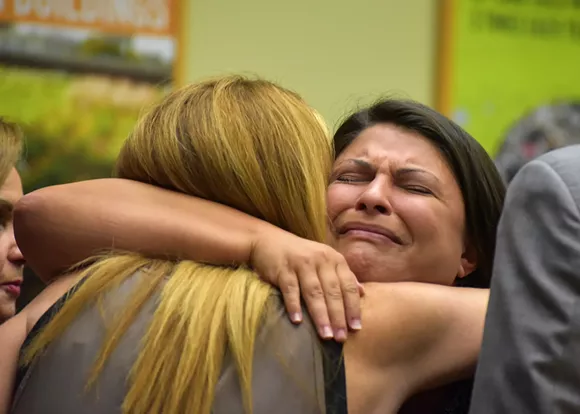 Photo by Monivette Cordeiro
Jessica Realin hugs Pulse owner Barbara Poma.
"What does 'Orlando United' mean?" she says. "Does it mean just victims and survivors or the community? Because it seems like the city has turned a blind eye toward his pain and suffering."
Gerry Realin was not present at Thursday's Orlando Police Pension Board meeting, but his family and lawyers were, along with Pulse victims' family members, survivors, local lawmakers and other members of the community.
"This man deserves this," says Nancy Rosado, a former New York City Police sergeant who responded to 9/11. "It is not natural and not normal to stand in a room where there are 49 dead bodies."
Steve McKillop, an attorney for the police department, argued that Realin should not get the full disability pension because OPD believes his condition can improve, but Realin has already made up his mind to seek an early pension five months after Pulse.
"Rather than understand that his department has been trying to help him, he sees any overture on their part as an intrusion, a distraction, an inconvenience, an annoyance and a barrier to his efforts to seek treatment," McKillop says. "He holds great anger for the department that he believes has treated him poorly. His medical records are filled with handwritten notes detailing his disdain for and repulsion from the department that has done nothing more than help its officer receive medical care and treatment to enable him to return to his position."
In a dramatic moment, Jessica Realin sobbed as McKillop accused her husband of refusing to accept OPD's help so that he could obtain disability benefits and not return to work as a police officer.
"When things do not go his way, he and his family resort to utilizing the media to cast dispersions on OPD, his commanding officers and the City of Orlando," he says. "Mr. Realin plays the victim and says OPD are his abusers."
Photo by Monivette Cordeiro
The pension board did not agree with OPD's argument and voted unanimously to give Realin full disability benefits. After the vote, Jessica Realin says she wanted to thank the community for their love and support on what has been a difficult journey.
"We're going to continue on trying to heal with my husband and figure out what the next chapter of our life is going to look like," she says. "Right now, I've been so entrenched in this that we haven't been able to really immerse properly in the therapy process."