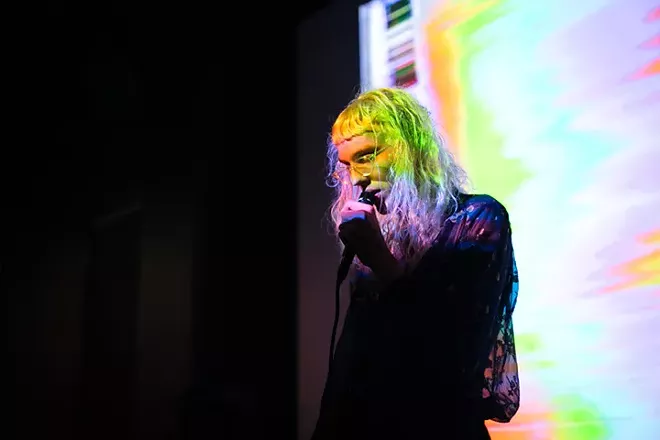 Following in the footsteps of Charlemagne Palestine, the Cocteau Twins and Joan La Barbara, Voice Hoist (formerly of Sarasota), creates some of the most moving, ethereal music that we've had the pleasure of experiencing in a long time. Voice Hoist creates whole choirs, storms in heaven, from just one voice. But beneath the healing waves of ambience, there's a definite intention at odds with the ideological drift of most ambient music.
There is a radical vulnerability and a fierce activist spirit at the heart of the music that Voice Hoist – Gelly Ahn – shares with the world. Influenced by the likes of Joe Meek, Björk and Burroughs' cut-up experiments, Ahn started Voice Hoist in 2014 – at the same time she came out as trans – as "an experimental practice in healing and engaging [her] relationship with [her] voice and assorted spiritual and material dysphoria." She found her desired sound methodology quickly, "sampling, looping and augmenting stream-of-consciousness vocal snippets, dream imagery, finding a sense of wholeness in fragmentation." Extensive live work and involvement in South Florida's DIY arts and music scene followed hand in glove: "Freaky folks holding space for resistance, healing and complexity through a radical arts context? Sign me up," she exclaims.
Ahn's music is inextricably linked to her involvement in community building and political activism. "DIY has always been very political to me," she emphasizes. While some dither about whether or not aesthetics and activism are mutually exclusive, Voice Hoist is breathing, sonic proof that they are not. Besides creating and performing, Ahn explains, "A lot of my engagement with music is the social and community side of it – building and supporting frameworks to uplift and give a platform for marginalized voices, or otherwise diverting resources to where they are most needed." And in so many ways, this community-building work is an extension of her artistic mission of "finding a sense of wholeness in fragmentation." Watching Voice Hoist perform is a poignant reminder that even in this increasingly cruel world, you aren't alone.
with Algae Guck, Mother Juno, Lush Agave | 9 p.m. Friday, July 28 | Stardust Video & Coffee, 1842 E. Winter Park Road |
stardustie.com
| $5