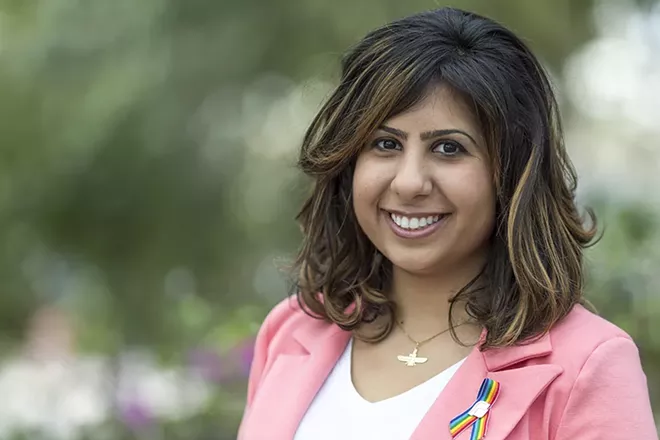 Photo by Rob Bartlett
Anna Eskamani
Orlando Commissioner Patty Sheehan has endorsed
Anna Eskamani
in the race for Florida House District 47.
Well, it's really more of a one-woman sprint than an actual competition at this point. Democrat Eskamani, 27, is the only candidate publicly running for the seat currently occupied by state Rep. Mike Miller. The Republican is reportedly vacating his spot to run against Democratic U.S. Rep. Stephanie Murphy. HD 47 run through Winter Park to Orlando and Belle Isle.
"I heartily endorse Anna for House District 47 in the Florida Legislature," Sheehan says in a statement. "This Central Florida seat is an important partner with the City of Orlando. Anna will provide passionate, principled, and progressive leadership, a role she is perfect for."
Photo by Aileen Perilla
Patty Sheehan
Eskamani, who works as the senior director of public affairs and communications at Planned Parenthood of Southwest and Central Florida, says in a statement that she was "honored" to have Sheehan's support. Orlando's first openly gay commissioner, Sheehan fought in the trenches for LGBTQ equality in the city, and after the Pulse massacre, became a vocal advocate for gun reforms.
"Commissioner Sheehan is a true advocate for equality, and for the people of Orlando," Eskamani says. "Her leadership on the City Commission has had a huge impact on our lives, and I cannot wait to be one of her biggest allies in the Florida Legislature."
Eskamani has also announced endorsements from Democratic state Reps. Amy Mercado, Orlando; Carlos Guillermo Smith, Orlando; John Cortes, Kissimmee; Daisy Baez, Coral Gables; Emily Slosberg, Delray Beach; Evan Jenne, Hollywood; Lori Berman, Boynton Beach; Robert Ascencio, Miami; Sean Shaw, Tampa; and Shevrin Jones, West Park.