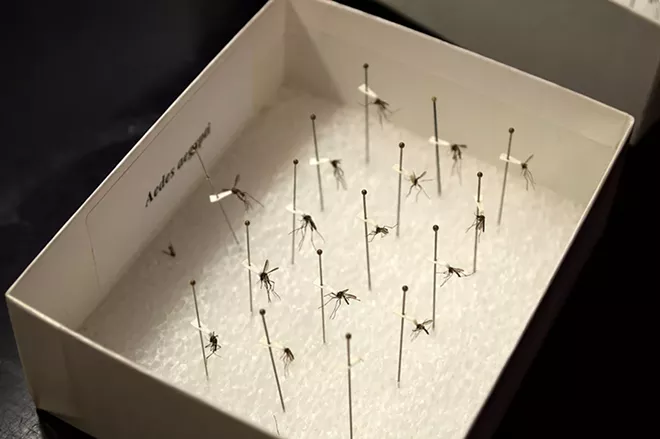 Photo by Monivette Cordeiro
The Florida Department of Health confirmed Tuesday the state's first sexually transmitted Zika case of 2017 in Pinellas County.
The diagnosed person had not traveled, but recently, that person's partner traveled to Cuba and came back ill with symptoms associated with the mosquito-borne virus, according to a statement from the
agency
. The state health department says it has alerted mosquito control near the area, and adds that no local mosquitos are spreading the virus.
"There is no evidence of ongoing transmission of Zika by mosquitoes in any area of Florida," FDOH says in a statement. "It is important to remember Zika can also be transmitted sexually and to take precautions if you or your partner traveled to an area where Zika is active. If the department identifies an area where ongoing transmission of Zika is taking place, we will notify the public immediately."
The Zika virus can cause mild symptoms in those it infects, but it's especially dangerous to unborn fetuses by causing microcephaly, a birth defect in babies associated with neurological disorders and an underdeveloped head.
This year, the total number of Zika cases in Florida is up to 118. The Florida Health Department says Zika can remain in semen for extended periods of time.
"It is critical for people who recently traveled overseas to an area with Zika to prevent mosquito bites for at least three weeks after they return home," the department says. "It is also important to reduce the chance of sexual transmission by using condoms. … Pregnant couples with recent travel to areas with active Zika transmission should consider using condoms for the duration of the pregnancy."
The agency also encourages residents to dump out any standing water around their home where mosquitos that carry the Zika virus like to breed. For more information from the Florida Department of Health, click
here
.