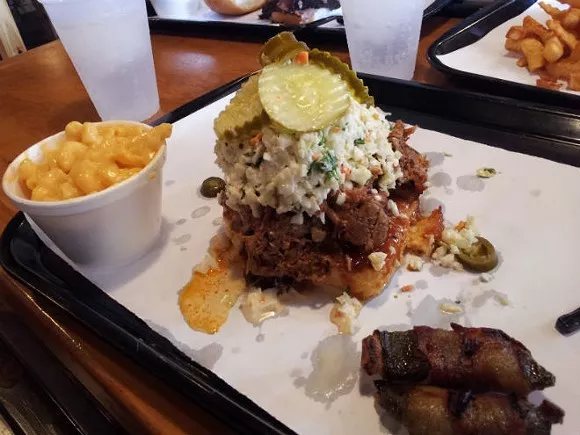 Orlando Weekly
SIx Shooter with smoked jalapenos and mac-and-cheese should be Orlando's signature dish, IMO.
Now you can get your Six Shooter faster than a steam engine on greased tracks — or something. Praise the Lord and pass the ammunition; 4 Rivers Smokehouse just released online ordering for all locations.
That means never having to stand in the sweltering heat waiting for your 'cue ever again. The online platform, via the restaurant's website, features the entire 4 Rivers menu, including desserts from the Sweet Shop at 4 Rivers.
Place your online order any time, 24 hours a day, and then pick up during business hours (i.e. not Sunday).
The online ordering is available for all 15 Florida locations, plus the brand-new Atlanta location, so if you're heading north, get your BBQ fix with all the fixin's ahead of time.