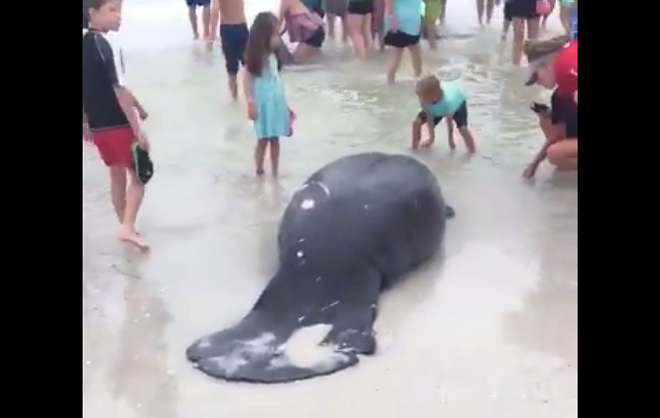 Photo via @clearwaterfire/Twitter
A group of beachgoers and firefighters in Clearwater Beach got up close and personal while rescuing three manatees that washed ashore on Wednesday.
Clearwater Fire & Rescue tweeted a series of videos showing crew members and the public strategically pushing the sea cows back into the water. The weight of the Clearwater manatees wasn't reported, but the animals can range from
440 to 1,300 pounds
.
According to the
Tampa Bay Times
, Clearwater Fire and Rescue stated that up to seven manatees washed ashore at around 3 p.m. Three were still stuck by the time rescuers showed up. The department said that
high winds and strong waves
may have beached the manatees as they swam in shallow waters.
The Florida Fish and Wildlife Conservation Commission said the crowd did the right thing by helping the manatees back into the water, reports
News Channel 8
. Some children got to help out by splashing water on the beached manatees.