THIS LITTLE UNDERGROUND
Rotten Stitches, Blue Tower and Control This, Uncle Lou's, Aug. 2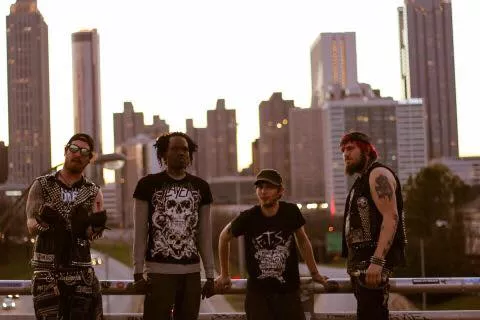 Jonathan Tucker
Rotten Stitches
The prime feature of a recent and diverse bill at Uncle Lou's were a couple of touring Atlanta bands that are from the same geographical area but occupy different stylistic ground.
Rotten Stitches at Uncle Lou's
Rotten Stitches
are a strand of street punk that veers more toward hardcore than the sounds of the pub. They're more
G.B.H.
than
Sham 69,
and they're especially devout to both the ethos and the aesthetic. Coming on with a bonanza of studs, bullet belts, hair color and anti-establishment politics, it's probably to the point of stereotype. But it was loud, fast and requisitely pissed enough to get the skinheads moving.
Rotten Stitches at Uncle Lou's
Next to the visual spectacle of Rotten Stitches, fellow Atlantans
Blue Tower
are total Plain Janes. But after a good listen, the torch and blister of their sound ended up being the real star of the night.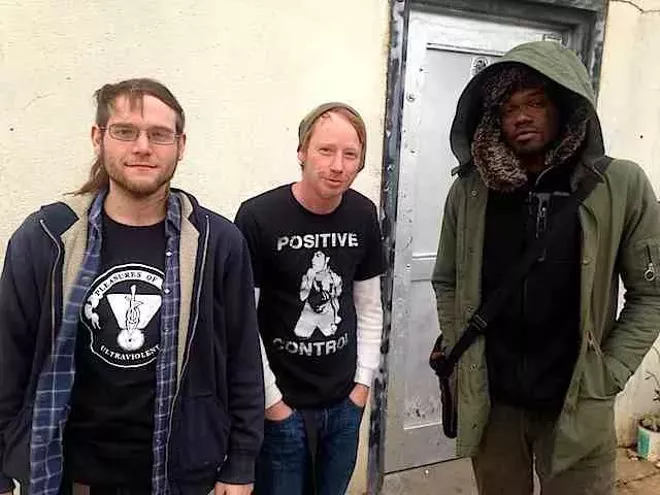 Facebook
Blue Tower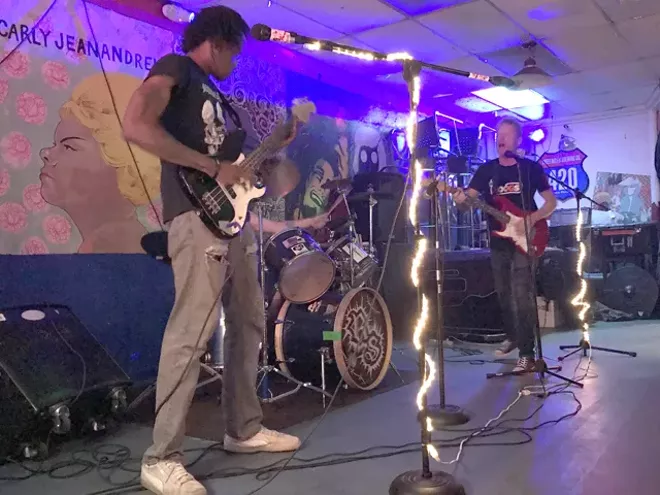 Blue Tower at Uncle Lou's
Although they, too, are a hardcore band, this lean, mean trio kick out a raw brand of punk rock that's less strict to traditional tribal lines. While the Stitches are 100 percent punk, the
animal heart of rock & roll
isn't just more prominent in Blue Tower, it's in full inferno. Even though they rush headlong with total and unrelenting velocity, they're still wild enough to make room for some carnal guitar burnouts. No fashion, no bullshit, just pure, searing rock truth – that's Blue Tower.
Daniela Poveda
Control This
Opening the night was local ska band
Control This.
Oh, ska. Is there a genre more bastardized or more unfortunately hijacked than
ska
(or its direct scion, reggae)? Consider its modern popular conception. Thanks to its wide-ranging and commercially successful but often terrible
Third Wave,
the sound and style the name conjures in most minds has much more to do with the California of the '90s than the Jamaica of the '60s. Which sucks. That's like your otherwise respectable family being judged solely by your
trashy, illegitimate third cousin.
Control This at Uncle Lou's
Control This, however, are refreshingly
traditionalist
in their take on the form. They're not soft punks or, worse, beach bros in disguise. They're sincerely trying to champion the roots of ska, rocksteady and early reggae. And though they're a band of few frills, they tread a virtuous path.
///////////////////////////////////////////////////////////////////////////////////////
This Little Underground
is Orlando Weekly's music column providing perspective, live reviews and news on the city's music scene.

Follow Bao on Twitter (@baolehuu)
Email Bao: baolehuu@orlandoweekly.com