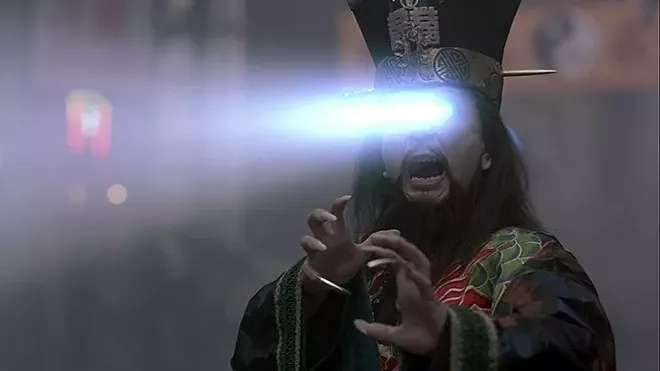 Among the many successful filmic collaborations between John Carpenter and Kurt Russell,
Big Trouble in Little China
is … a lesser work, let's say. Lacking the grim joie de vivre of
Escape From New York
or the claustrophobic horror of
The Thing
, Carpenter's attempt to join the martial-arts film pantheon has little to recommend it – unless you enjoy laughing yourself sick. If you don't mind snickering at hundreds of people's hard work, then
Big Trouble in Little China
is a goddamn masterpiece. Luckily, at this event it matters not where you stand on the morals of MSTK-style fun-poking, because the Courtesy is bringing in two articles of unquestionable excellence: Jacksonville barkeep Robert Freeman and food from Orlando's Chuan Lu Garden. Freeman will be interpreting
BTLC
's ridiculous villain, Lo Pan, as a cocktail, among other characters; Chuan Lu will buzz your face off with Sichuan dopeness; enjoy or ignore the chop-socky as you please.
8 p.m. Monday, Aug. 7 | The Courtesy Bar, 114 N. Orange Ave. | 407-450-2041 |
thecourtesybar.com
| admission is free, drinks are not