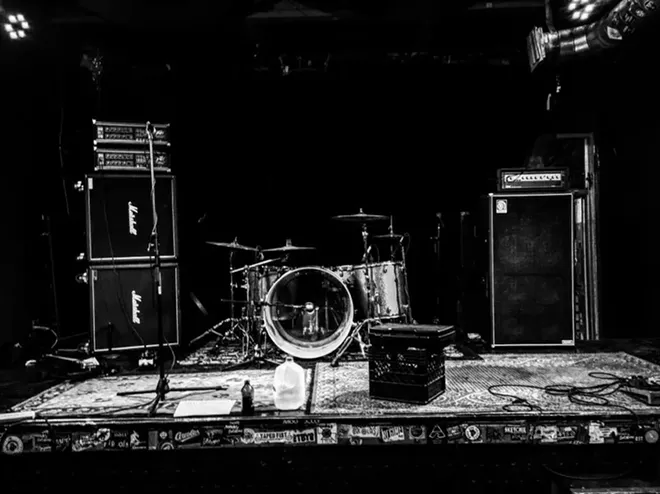 Welcome to
Orlando Weekly
's "
Band of the Week
." Every week, we highlight one of our favorite local bands. This week, we're pleased to bring you
Ad Nauseum
.
Ad Nauseum are playing August 19 at Will's Pub with Meatwound, Gillian Carter, and Destructonomicon.

Just the facts:
Who's in the band?

My name is Glenn, I play guitar. Mike also plays guitar. Justin plays bass, and Jake plays drums.
When did the band form?

Ad Nauseum formed in 2012, as Justin and I were getting out of high school.
Currently available releases:

We have a discography of the old stuff, and a newer EP from last year that can be found at
adnauseum.bandcamp.com
. We move fairly slow.
Websites:
Ad Nauseum on Facebook, and bandcamp. We have an Instagram, but I stopped updating it awhile ago.
Describe your sound in five words:

Visceral, emotive, loud, cathartic, loud.
Five questions:

What has been your most memorable show so far?

We played with Eyehategod once and–purportedly–the bouncer vomited within the first few seconds of our set, due to the low frequencies coming from our instruments and electronic section. I felt the stage rumble beneath my feet throughout that entire set.
Which local band is your favorite one to play a show with?

I love Forms. To me, they capture the essence of '90s/'00s screamo perfectly.
What description gets used for your band that you would most like to correct people on? Why?

I absolutely abhor being called a doom/sludge metal band. I would be lying if I said I haven't take influence from some of the seminal sludge/doom bands like, the Melvins, and Floor, but we were originally influenced by Man is the Bastard. Our music is meant to be emotionally expressive, and I feel that we've found dragging something out and making it as uncomfortable as possible is the most effective way to do that. Doom – or sludge – metal isn't what's on our mind through the writing process.
What's your favorite thing about being an Orlando band? What's your least favorite? Why?

Orlando people seem very dedicated. But I suppose one has to be when living in Florida, it's geographically isolated, and a very polarizing place
Any big news to share?

We're working on new music too. Some of it will go on a "proper" full-length, and other songs are slated to go on a 10" split with Forms.