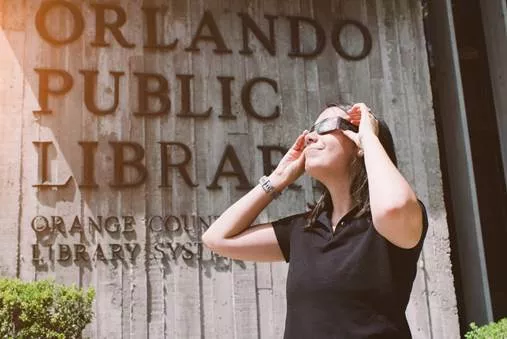 Photo via Orange County Library System
While staring directly at the eclipse is an absolute terrible idea, scoring a free pair of safe-viewing glasses at one of the Orlando public libraries is a very good idea.
On Monday, Aug. 21, 10 public library branches will host
Solar Eclipse Viewing Parties
, with free glasses available to attendees (while supplies last).
The partial eclipse will begin at 1:27 p.m. and continue until 4:21 p.m.
The 10 participating libraries include the Alafaya Branch Library, Chickasaw Branch Library, Eatonville Branch Library, Herndon Branch Library, South Trail Branch Library, Southwest Branch Library, Washington Park Branch Library, West Oaks Branch Library, Windermere Branch Library and Winter Garden Branch Library.
Due to the limited number of safe viewing glasses received, the library will not be distributing glasses in advance of the event.