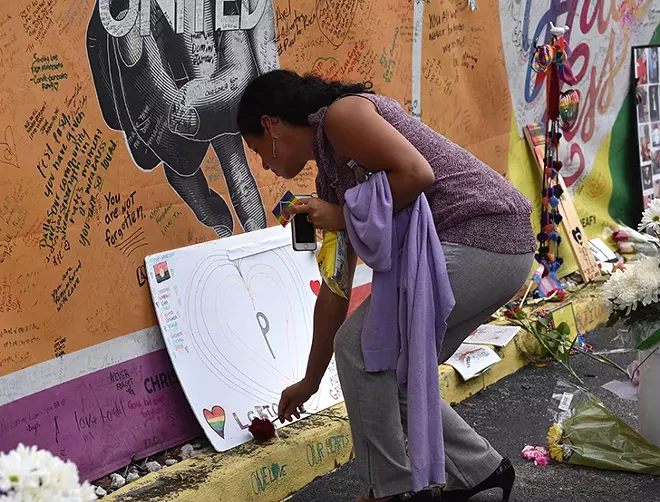 Photo by Monivette Cordeiro
More than a year after the massacre, Orlando leaders are now starting the public process of discussing what a memorial and museum would look like at the gay nightclub Pulse.
The
onePULSE Foundation
lead by Pulse owner Barbara Poma will be holding a series of town hall conversation on the memorial honoring the 49 victims killed and countless injured on June 12, 2016, starting with the first town hall on Wednesday, Sept. 13. The discussion will reportedly focus on "creating a sanctuary of hope" around the site of the worst mass shooting in modern American history. The event starts at 6 p.m. at the Orlando Repertory Theater on 1001 E. Princeton Street. The event is public, but seating is limited and tickets are required. Reserve admission tickets
here
.
A forum of experts on museum curations and memorials will be moderated by Indira Lakshmanan, who is a journalism ethics chair at the Poynter Institute and a columnist for
The Boston Globe
. The experts include:
- Hilary Lewis, Ph.D., Chief Curator & Creative Director of the Glass House, and onePULSE Foundation Trustee
- Pamela Schwartz, Chief Curator of the Orange County Regional History Center
- Ed Linenthal, Ph.D., Author and Professor of History & American Studies at Indiana University Bloomington
- Kari Watkins, Executive Director of the Oklahoma City National Memorial & Museum
- Anthony Gardner, Senior Vice President Government & Community Affairs of The National September 11 Memorial & Museum
- Jan Ramirez, Executive Vice President of Collections and Chief Curator, National September 11 Memorial & Museum
The event is being sponsored by JPMorgan Chase & Co. The organization also plans to post a public survey on its
website
that same day for input about the future of the Pulse site. onePULSE Foundation says the next forum will be in early 2018.