Photo by Monivette Cordeiro
Alison Holmes had to pay $600 to speak with her senator.
The woman and her
young son
with cerebral palsy bought VIP tickets to see U.S. Sen. Marco Rubio at the
Lincoln Day Dinner
for Seminole County Republicans on Tuesday. At an event where ticket prices ranged from $150 to $3,000, Holmes and her son wanted to talk to Rubio about how repealing Obamacare would affect the Medicaid they depend on.
"I have tried calling your office, I've written to your office, I've emailed your office," Holmes said in a
video
she streamed live on Facebook. "We've asked for a town hall because I just feel it's so unfair to take away Medicaid. We've already had it annihilated – the Medicaid expansion – in Florida. And to not even respond to us, to not give us the option to say, 'I'm not a left-wing extremist.' I'm a mother of three children and I'm terrified with what's going on."
After promising to refund her $600, Rubio replied that he loves town halls despite not having once since he was re-elected last November.
"The problem with town halls is this conversation we're having now would have been impossible at a town hall," Florida junior senator said. "There would have been 50 or 60 people there whose only job would have been to scream at everything I said and interrupt so they can show off for cameras and then we could never have this conversation."
For months now, Floridians have been asking Rubio to hold a town hall, with the majority wanting to focus on the Republican repeal and replacement of the Affordable Care Act. Previously, the senator's explanation for skipping town halls is because activists will "
heckle and scream
" at him. One of the last attempts by Senate Republicans to repeal Obamacare would have
increased
the number of uninsured people by 16 million by 2026, so yeah, there's probably a reason Floridians are a little
irate
at Rubio ignoring them. The senator also told Holmes he doesn't approve of cutting Medicaid, though as
Politifact
has pointed out, one of the GOP's plans would have curbed the rate of spending by the federal government and ultimately forced states to make tough choices.
Photo by Monivette Cordeiro
At Tuesday's dinner, around 100 protesters gathered outside the Hilton Altamonte Springs with signs, chanting "Shame on Rubio! Shame on Rubio! Shame on Rubio," to the beat of a tambourine and beeping cars. Inside, Seminole Republicans dined as they listened to Rubio preach better days for America after white supremacist rallies in Charlottesville.
"[The Republican Party] is not a place where we believe one race of people is superior to another race of people," Rubio said to claps from the room. "And it's important for us to make that clear because I believe these people that are spouting that hatred pose a potential existential threat to the conservative movement."
And then the Republican senator, taking a page from Donald Trump's
book
, decided to subtly place some blame on the other side.
"I think having that high moral high ground allows us to point to others — communists, socialists, anarchists — who have decided that they have the right to take violent action against people they disagree with," he said. "And that needs to be pointed out and has not received enough coverage. The fact that there are people on the other side of the political spectrum who decide they can physically attack people they don't like — and it's not just Nazis and KKK people. They've attacked people that are, in their definition, not acceptable. It's not acceptable, either."
At another point in his speech, Rubio was
interrupted
by a climate-change activist who asked why he took money from the oil industry. The senator responded with a weirdly veiled warning.
"I'm so glad I live in America where she can say that," Rubio said. "In a lot of other countries, she'd go to jail. I'm grateful that I live in America."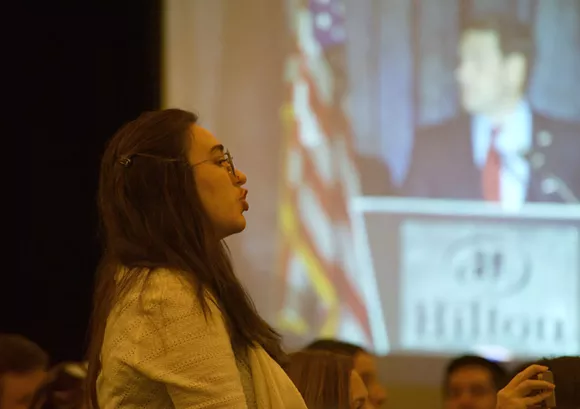 Photo by Monivette Cordeiro
Toward the end of Holmes' meeting with Rubio, she pleaded with him to hold a town hall with a group of people that have serious questions.
"I've been willing to do town halls of that nature," he told her. "But the problem with that is, undoubtedly is, you can't tell people they can't show up. And you're right, both sides do it. But this is a broader problem in our society. It's not just health care. We can't talk about anything in America anymore. … It's not about the shouting. I just want to be able to have this conversation back and forth. But here's what really bothers me the most is people that are facing what you're facing are being told things that are not accurate. You have a right to be concerned."
Rubio promised Holmes a meeting in Orlando with her and a group of like-minded people with serious questions, so if you're one of the lucky ones to get in, let us (and the rest of Florida) know how it goes.