THIS LITTLE UNDERGROUND
Social Distortion and Jade Jackson, House of Blues, Aug. 25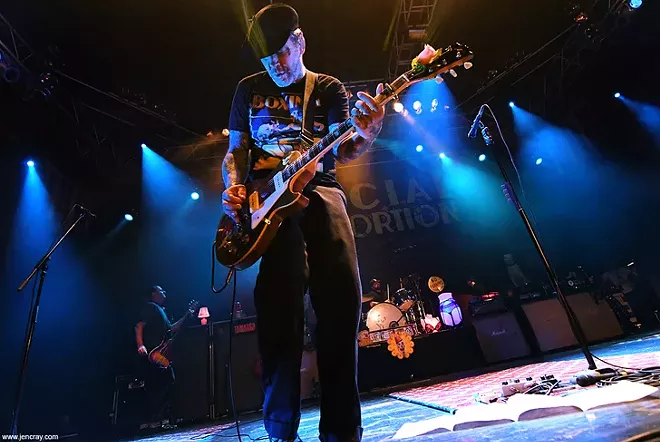 Jen Cray
Social Distortion at House of Blues
Depending on how you look at it,
Social Distortion
are either post-prime or in sunset legacy mode. Either way, their tall legend was required to compensate in the sum total of their recent live experience, which was marked by less-than-crisp execution and the use of not just set lists but lyric sheets. But, hey, if anyone's earned their dues, it's them. And I remain a card-carrying fan.
Jade Jackson
Jade Jackson at House of Blues
This time, though, the draw for me was opening songbird and Mike Ness protégé
Jade Jackson,
who's on her first national tour. A feminine idealization of what Ness has fashioned himself into over the years, this young artist, too, is a tough-and-tender American roots revivalist. She's a California girl but definitely not the blonde beach bunny cliché.
Jen Cray
Jade Jackson at House of Blues
Instead, Jackson's a black-clad, boot-kicking pistol. Like a more overtly country
Kathleen Edwards,
she's a force of twang and elegance. Live, that power was even more up-front with her world-challenging stance and rock band setup.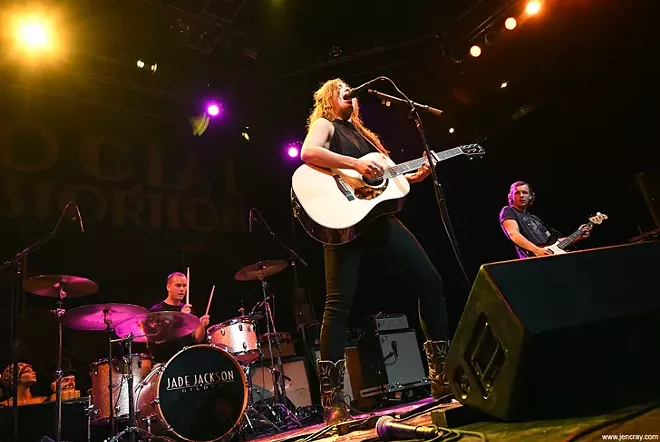 Jen Cray
Jade Jackson at House of Blues
Jen Cray
Jade Jackson at House of Blues
While her stage show is a leaner, sinewed ride, her excellent Ness-produced debut album on
Anti Records
(
Gilded
) is a rich and sonorous affair lush with glorious steel guitar. But either way, Jade Jackson is a trinity of classic sounds, youthful radiance and legit guts who belongs in the vanguard of today's bright young Americana class alongside leading ladies like
Nikki Lane
and
Lydia Loveless.

Jen Cray
Jade Jackson at House of Blues
Having a figure like Mike Ness - who's invested enough in Jackson to come out onstage himself to reinforce her thanks to the crowd for their reception - as your collaborator, champion and mentor is one hell of an auspicious start, to be sure. But the promise resides wholly in her. And so far, her dawn is bright and her horizon looks unbound.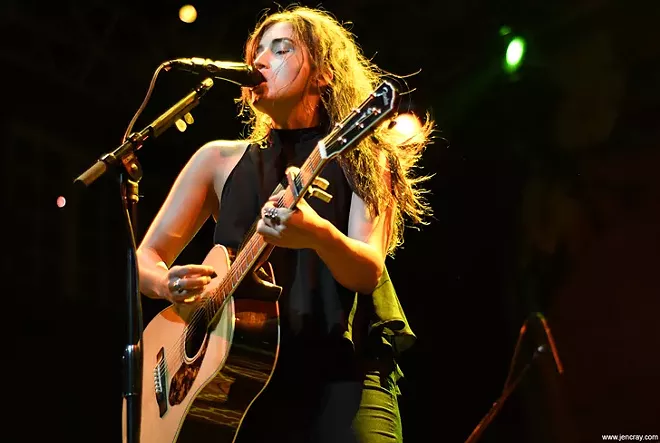 Jen Cray
Jade Jackson at House of Blues
///////////////////////////////////////////////////////////////////////////////////////
This Little Underground
is Orlando Weekly's music column providing perspective, live reviews and news on the city's music scene.



Follow Bao on Twitter (@baolehuu)
Email Bao: [email protected]