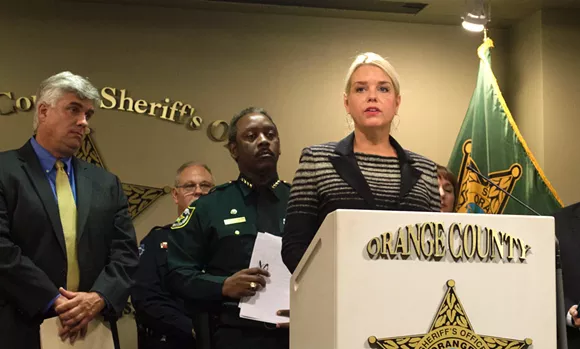 Photo by Monivette Cordeiro
Attorney General Pam Bondi's office Tuesday urged the Florida Supreme Court to reject a challenge to a red-light camera program in the city of Aventura, saying the program does not shift too much power to a private contractor.
Bondi's office filed a 42-page brief asking the Supreme Court to uphold a ruling by the 3rd District Court of Appeal in the case, one of a series of legal challenges to red-light camera programs across the state. The Aventura case stems from motorist Luis Torres Jimenez getting ticketed for turning right at a red light. In challenging the ticket, Jimenez contended the city had illegally given too much authority to a red-light camera contractor to review images of potential violations and to print and send out citations.
But in the brief Tuesday, Bondi's office argued, in part, that the contractor's review of potential violations was a "valid designation of a nondiscretionary, ministerial task" by the city. "After this ministerial screening process has occurred, it is the city's officer who reviews the working queue of usable images and makes a determination as to whether probable cause exists to issue a notice of violation," the brief said. "The city therefore retains all discretion over the exercise of its police powers." The Supreme Court in May agreed to take up the case, though it has not set a date for oral arguments, according to an online docket.