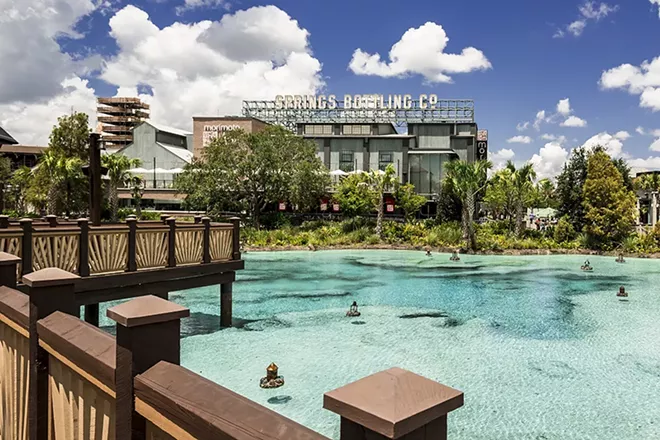 Much of the Downtown Disney to Disney Springs transformation is finished, but if you walk around the Disney World entertainment complex, you'll see a few construction projects still in the works.
A
new Wolfgang Puck
restaurant will open next year beside the Coca-Cola store, and the West End still has a ton of projects in the works, including the
NBA Experience
attraction.
One of the most anticipated additions yet to open at Disney Springs is The Edison.
This will be the second location for the L.A. based concept that's part nightclub, part speakeasy, and part restaurant. Here in Orlando, The Edison will be a custom-built space with numerous bars, dining options, and entertainment throughout. In the fashion similar to the former Adventurer's Club, which was housed in the same space, The Edison will have roaming characters who interact with guests.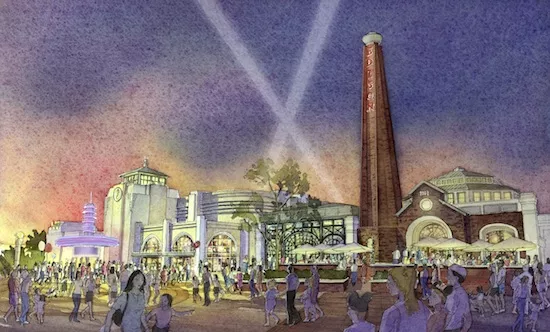 Photo via Disney
Artist rendering of Edison's at Disney Springs.
Numerous job postings for the new Disney Springs location have now been posted on the website of the Patina Group, the parent company of The Edison. These
job postings
share never before confirmed details of what we can expect from this multi-level entertainment destination. The postings state, "The Edison – with an estimated opening of November 2017, is a lavish "Industrial Gothic" restaurant, bar, and nighttime destination with live entertainment. It presents cabaret, burlesque and music, craft cocktails, and classic American dishes."
More interesting are the descriptions of what is expected from the highly themed space. In a
post for a General Manager
, Patina Group describes four distinct themed areas.
"Four new concepts that will be connected as part of one large complex and will be introduced to Disney Springs in the Fall of 2017. Each of the concepts are housed in key locations that play an integral role in the Disney Springs origin story, such as the former airline terminal, an underground rum running tunnel, and the former electrical power plant, providing rich territory for story-telling."
We don't have many details on what will be housed in each of these settings, but earlier this month it was confirmed
to the Orlando Weekly
that the rum running tunnel will house the Italian restaurant, Maria & Enzo's. This area was formerly known as 'the tunnels' or the '
Neverland tunnels
' and has been rumored since 2015. A restaurant and whiskey bar at The Edison was rumored to be
named Walt's
.
Disney has been strict with tenants at Disney Springs having anything that might resemble a Disney copyright, including having a cupcake shop
remove a sign
that was in the shape of a Mickey Mouse logo. This strict policy against anything that could be viewed as Disney approved might be why the name of both the
tunnels,
and likely the whiskey bar, have been changed.
The Edison will open in phases beginning this fall, it should be fully open by Spring 2018.