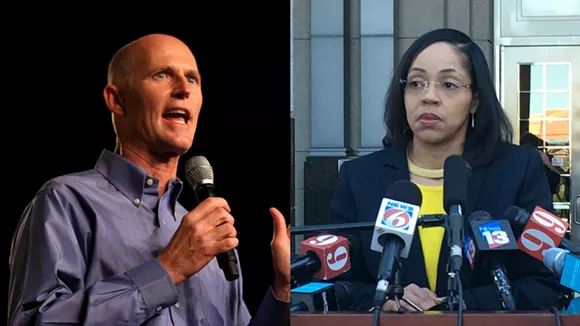 Today, the
Florida Supreme Court
ruled that Gov. Rick Scott has the authority to remove death penalty cases from Orange-Osceola State Attorney Aramis Ayala.
"Far from being unreasoned or arbitrary ... the reassignments are predicated upon 'good and sufficient reason,' namely Ayala's blanket refusal to pursue the death penalty in any case despite Florida law establishing the death penalty as an appropriate sentence under certain circumstances," said Justice C. Alan Lawson.
The court was split 5-2 with Justices Barbara Pariente and Peggy Quince dissenting.
Following the ruling, Scott's released a
statement
calling it a victory.
"Today's ruling is a great victory for the many victims and families whose lives have been forever changed by ruthless, evil acts of crime," Scott says. "I absolutely disagreed with State Attorney Ayala's shortsighted decision to not fight for justice. That's why I've used my executive authority to reassign nearly 30 cases to State Attorney Brad King. … Crimes like these are pure evil and deserve the absolute full consideration of punishment – something that State Attorney Ayala completely ruled out. She unilaterally decided to not stand on the side of victims and their families, which is completely sickening. In Florida, we hold criminals fully accountable for the crimes they commit – especially those that attack our law enforcement community and innocent children."
The court heard
oral arguments
in June over whether Gov. Rick Scott had the power to take away capital cases from Orange-Osceola State Attorney Aramis Ayala after her decision not to seek the death penalty.
"[Rick Scott] does not have the authorization to override the prosecutorial discretion of an elected state attorney," says Roy Austin Jr., Ayala's attorney. "By taking 24 cases away from State Attorney Aramis Ayala, Gov. Scott violated the constitution and the law."
The conflict between Ayala and Scott started earlier this year when Ayala announced in March that she would not pursue the death penalty in the case of murder suspect Markeith Loyd, who is accused of killing his pregnant ex-girlfriend Sade Dixon and Orlando Police Lt. Debra Clayton. Citing a lack of public safety benefit and the legality of Florida's death sentencing scheme, Ayala also declared she wouldn't pursue the death penalty for cases under her administration. Hours after Ayala's announcement, Scott used his executive authority to remove Ayala from the case and reassign it to Ocala-based State Attorney Brad King, saying it was "clear that she will not fight for justice."
Scott then reassigned 29 more murder cases away from Ayala as Republican lawmakers targeted her office with budget cuts. Ayala filed a lawsuit against Scott, saying he violated the law when he removed her from the murder cases by interfering with an independently elected prosecutor. Scott and Attorney General Pam Bondi argued the governor does have the authority to remove Ayala after she made a blanket decision not to seek the death penalty.
"Is it really the case that every single elected prosecutor in this state may adopt a blanket policy of refusing to apply or enforce any state law with which that prosecutor personally disagrees as a matter of policy?" asked state Solicitor General Amit Agarwal. "And that there is nothing, that anyone, serving in the three branches of government, can do about it?"
The court questioned Austin extensively, with Justice R. Fred Lewis saying at one point that it seemed like Ayala's definition of discretion was just ignoring Florida's laws.
"To my mind, discretion is when you make a decision on a case-by-case basis," Lewis says.
Austin replied that Ayala's decision was about discretion because there's nothing in Florida law that requires prosecutors to seek the death penalty.
"When a state attorney decides how they're going to use their resources, how they're going to employ their fellow assistant state attorneys, when they decide how they're going to treat some cases versus others, that is absolutely an exercise in discretion," Austin says.
Justice Barbara Pariente and Peggy Quince questioned Agarwal whether prosecutors were required by the state to seek the highest maximum sentence in any case.
"[Ayala] made a decision based on the hard facts that in this state," Pariente says. "In the year 2015, only eight additional defendants went onto death row, whereas over 1000 individuals were prosecuted, charged and convicted with manslaughter and homicide. … It's undeniable in the last two years that the death penalty in this state has been in a state of flux."
Agarwal said the governor is not arguing that prosecutors must seek the death penalty for all cases.
"[Ayala] said … 'I will not be seeking the death penalty in the cases handled in my administration,'" he says. "Period, no ifs, ands or buts. Our point is it's abundantly clear from the press conference and from this statement that [Ayala] is not willing to apply the current death penalty statue to any of the pending cases."
After the oral arguments in June, Ayala told reporters she was pleased with the work of her attorneys.
"I violated no laws, there were no Florida statutes that I was required to seek death penalty," she says. "There was no blueprint for me to follow. I did what I believed was proper under Florida law."