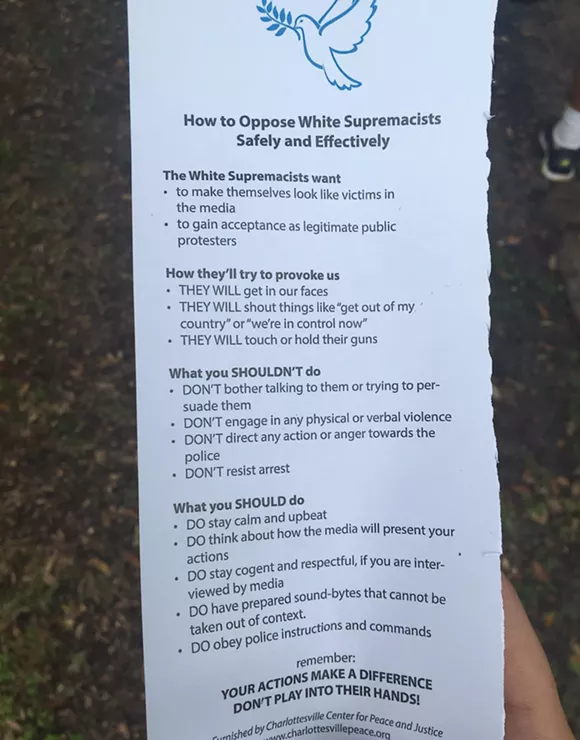 Photo via lilchickenlittle
Last weekend, a flier detailing how to properly deal with white supremacists was handed out at a planned Confederate monument rally in Pensacola, Florida.
The flier, which was created by the
Charlottesville Center for Peace and Justice
, was distributed at the Lee Square rally on Aug. 26, and it makes a few solid points for any rally, regardless of whether there are white supremacists present or not.
For example, you should never resist arrest. You should also never engage in violence, and most importantly don't even bother trying to convince anyone of your point of view (this last one pretty much applies to everything).
The rally was organized by Thomas Olsen, a Milton resident who reportedly gathered thousands of signatures to preserve the square's statue of Robert E. Lee. Olsen told the
Pensacola New Journal,
"It is about my Southern heritage, and I am trying to preserve that history."
Olsen also told that paper that he discourages neo-Nazis and the KKK from showing up to his rally because "when those groups show up, things don't turn out good."
Of course, last Saturday's rally was met with men and women carrying swastikas and counter-protesters, reports the
Journal
. Supporters of the statue were also chanting demands to remove Martin Luther King statues in the city.
One arrest was made after a man knocked a megaphone out of a woman's hand while she was calling for the removal of the statue.