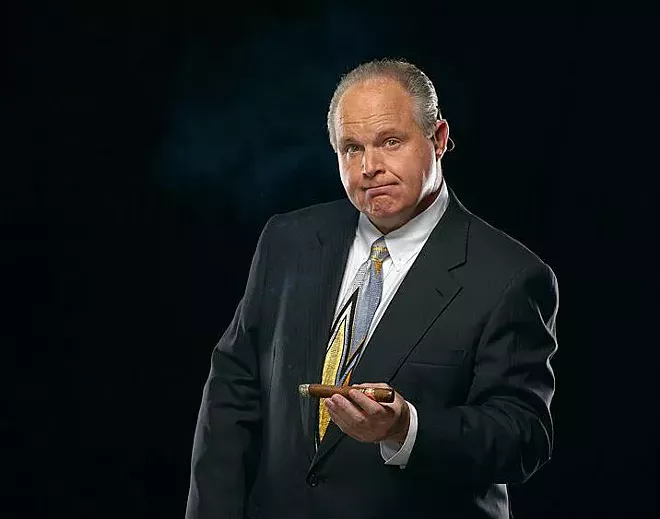 Conservative radio host Rush Limbaugh says he's no
meteorologist
, but the Palm Beach resident recklessly suggested to his listeners that warnings about Hurricane Irma were exaggerated to advance a "climate change agenda" and the ensuing panic helps local retailers profit on those seeking supplies.
Aside from being irresponsible, it's slightly ironic, given that the loudest person calling for Floridians to take this seriously is noted
climate-change denier
and Florida Gov. Rick Scott. The Republican governor, who says the Category 5 hurricane could possibly be more devastating than
Hurricane Andrew
, declared a state of emergency Tuesday for all 67 counties in the state and started evacuations. According to
Limbaugh
:
"...So there is a desire to advance this climate change agenda, and hurricanes are one of the fastest and best ways to do it. You can accomplish a lot just by creating fear and panic. You don't need a hurricane to hit anywhere. All you need is to create the fear and panic accompanied by talk that climate change is causing hurricanes to become more frequent and bigger and more dangerous, and you create the panic, and it's mission accomplished, agenda advanced.

Now, how do you do this? Well, any number of ways. Let's take south Florida television, for example. There is symbiotic relationship between retailers and local media, and it's related to money. It revolves around money. You have major, major industries and businesses which prosper during times of crisis and panic, such as a hurricane, which could destroy or greatly damage people's homes, and it could interrupt the flow of water and electricity. So what happens?

Well, the TV stations begin reporting this and the panic begins to increase. And then people end up going to various stores to stock up on water and whatever they might need for home repairs and batteries and all this that they're advised to get, and a vicious circle is created. You have these various retail outlets who spend a lot of advertising dollars with the local media.

The local media, in turn, reports in such a way as to create the panic way far out, which sends people into these stores to fill up with water and to fill up with batteries, and it becomes a never-ending repeated cycle. And the two coexist. So the media benefits with the panic with increased eyeballs, and the retailers benefit from the panic with increased sales, and the TV companies benefit because they're getting advertising dollars from the businesses that are seeing all this attention from customers."
After online outrage, Limbaugh later pushed back by doubling down on his position and saying he never claimed Hurricane Irma was "fake news."
"Did I ever say it wasn't a big storm? Did I ever call it fake news? I didn't do any of that," Limbaugh told his listeners. "All I did was remind everybody that there are people throughout levels of government that believe in climate change, it's an emotional issue, and they look at for any evidence they can to prove it and they go nuts with it — and that's exactly what's happening here. … We went 12 years without a single one hitting the United States. Well, now, two of them are hitting and they can barely contain themselves. They want to be right, and so they're milking this. They're milking it for all they can get out of it."
After Limbaugh's comments, real meteorologists and weather anchors, like
Today
show's Al Roker, reiterated what we already knew – you shouldn't be listening to Limbaugh for emergency advice, period.