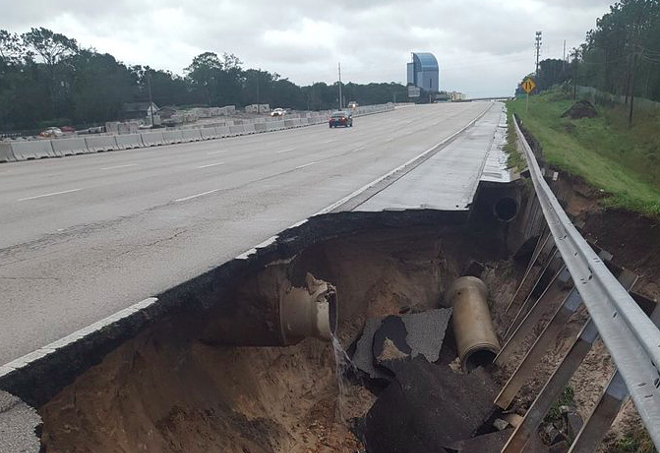 Look around you. Are you outside right now? If so, go back inside.
Though
Hurricane Irma was downgraded to a tropical storm
and is currently making its way out of Central Florida, local authorities are urging residents to stay indoors and off the roads, as crews work to clear dangerous debris and restore power.
This morning, the
Florida Highway Patrol
tweeted a photo showing a portion of I-4 that was completely destroyed from Hurricane Irma, which should tell you that the roads are incredibly unsafe at the moment.
With reported wind gusts upwards of 70 mph in the Orlando area, trees and power lines are still at risk of falling. If you are outside, you are intentionally putting yourself and others at risk, says FHP.
According to the National Hurricane Center, a large portion of injuries and deaths occur after a hurricane passes.
In a Monday morning briefing, Orange County Mayor Teressa Jacobs said that crews are still assessing the damage and urged citizens to have patience and remain indoors.
Also, there's currently still a curfew in effect for Orange and Volusia counties till 6 p.m.
For some reason, people still don't know this...
Also, on a somewhat unrelated note, the Majesty building (aka the I-4 Eyesore) still stands, as you can see in the above photo.