Photo via Mary Sue Weinaug/Facebook
Wekiva Island, a favorite local swimming spot and bar, is completely flooded following Hurricane Irma.
The 2,000-square-foot recreation complex shared on
Facebook
Monday that it "suffered some pretty severe flooding" and will be closed until further notice.
Mary Sue Weinaug, executive director of Keep Seminole Beautiful and co-owner of Wekiva Island,
stated
that "the classroom is about 4 feet under water," with just "1 inch to give for the wine bar."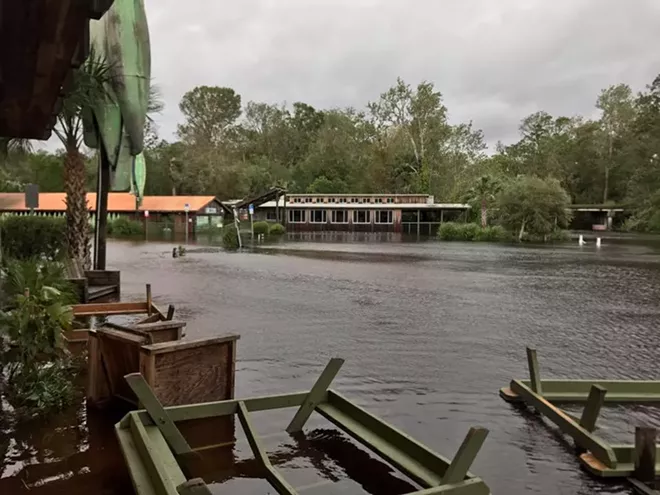 Photo via Mary Sue Weinaug/Facebook
Wekiva is also encouraging those wishing to help to remain off the property grounds, as any created wake could cause further damage.
The story has become an all-too-familiar one, as flooding from Hurricane Irma has had a massive impact across the whole state, and particularly in Central Florida.
Photo via Mary Sue Weinaug/Facebook
In a statement released Wednesday, Sept. 13, Wekiva Island officials advised those affected to contact Wekiva's offices for information about refunds for planned events or cabana rentals.
"One thing is for certain, we will have one heck of a celebration once the Wekiva Island is up and running again!" they added.