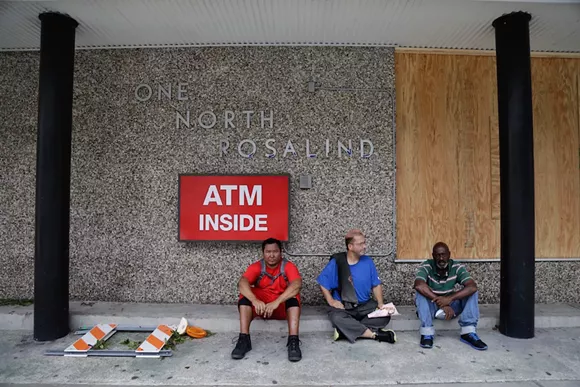 Organize Florida and several partner organizations are working to get supplies to low-income families across the state. Some of these families were already low on food and household supplies, and are struggling to make ends meet after Hurricane Irma.
In the aftermath, they now face property damage, power outages, food spoilage and lost wages. With donations to the Hurricane Irma Community Recovery Fund, the partner organizations are hosting community cook-outs, feeding more than 2000 people in low-income neighborhoods in West Orlando, Oakridge, Kissimmee and Sanford. Each of these events not only provides a hot meal, but also an opportunity to assess and distribute whatever individual households may need, including ice, food, cleaning supplies and diapers.
As we've reported,
Central Florida has one of the lowest median wages
of any major metropolitan area in the United States, with nearly 16 percent of the state's 20.6 million people living in poverty. Organize Florida points out, "An estimated 850,000 undocumented immigrants across Florida may be fearful of accessing needed government resources due their immigration status."
Contributions to the fund can be made
here
. Donated supplies can be dropped off at 134 E. Colonial Drive, Orlando 32801. A list of upcoming cookouts is below:
Upcoming Community Cook Outs & Supply Drives:

Lake Lorna Doone Community Cook Out
Thursday, Sept. 14, 3:15 p.m.
By Camping World Stadium
1519 W. Church St. Orlando, FL 32805

Apopka Community Cook Out
Thursday, Sept. 14, 5-7 p.m.
Temple of Faith
1028 Marvin C Zanders Ave., Apopka, 32703

Altamonte Springs Community Cook Out
Thursday, Sept. 14, 6-9 p.m.
Seminole Education Association
813 Orienta Ave., Altamonte Springs, Florida 32701

Pine Hills Community Cookout
Friday, Sept. 15, at at 2 p.m.
The Wire 98.5
6003 Silver Star Road, Orlando, Florida 32808

This is a joint effort of Organize Florida, Let Your Voice Be Heard, Florida Rights Restoration Coalition, Florida Student Power Network, Florida Immigrant Coalition, CAIR Florida, Central Florida Jobs with Justice, Latino Justice, SEIU, Seminole Education Association, Vamos 4 PR and more.