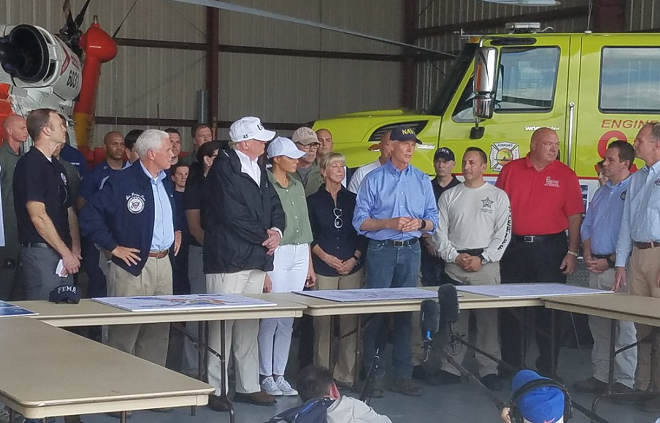 Photo via Rick Scott/Twitter
Donald Trump wasted no time at all during his visit to Florida to politicize a tragedy.
While in Fort Meyers today to survey damage from Hurricane Irma, the President seized the opportunity to endorse Florida Gov. Rick Scott for Senator, who has not formally announced that he will run (but he probably will).
"The job he's done is incredible," Trump said of Scott's handling of Hurricane Irma. "I have to say that, what do I know, but I hope this man right here, Rick Scott, runs for the Senate. I don't know what he's going to do but I know that at a certain point it ends for you and we can't let it end. So I hope he runs for Senate."
Next year, Scott faces term limits as governor and is expected to run against Sen. Bill Nelson.
This isn't the first time Trump has given Scott his blessing. Trump
endorsed Scott last June
during his last trip to Florida, as well.
The President is also visiting Naples today, and is accompanied by first lady Melania Trump and Vice President Mike Pence.