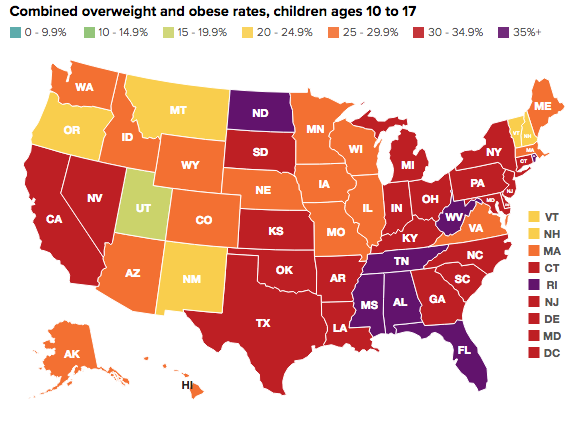 Photo via The State of Obesity
September is National Childhood Obesity Awareness Month, and right on time is a new national health study about—you guessed it—children and obesity.
The
2016 National Survey of Children's Health
, released Tuesday by
The State of Obesity
, an organization dedicated to addressing America's obesity epidemic,
reports
that 36.6% of Florida children aged 10-17 are obese.
Calculated by a measure of participants BMI (
body mass index
), the figure put Florida at fourth in the nation for childhood obesity. Mississippi came in third, with 37% obesity rating for 10-17 year olds, and Tennessee took spot number 1, with a childhood obesity rating of 37.7%.
Meanwhile, the study reports the U.S. average for the age range is 31.2%.
The numbers represent a significant increase from the study's previous year, 2011. While The State of Obesity notes that changed data-gathering methods could account for some of the differences, Florida's much lower 27.5% childhood obesity rating in 2011 is striking, nevertheless.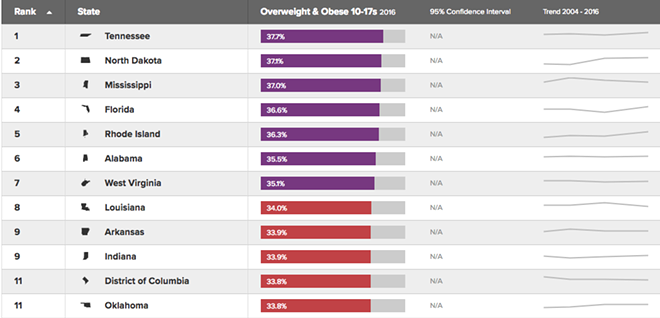 Interestingly, The State of Obesity reports that Florida's adult and 2-4 year-old populations rank in the lower half of the nation overall. In 2014, just 12.7% of
2-4 year olds
were obese, 41st nationally. And in 2016, 27.4% of Florida
adults
were obese, only the 36th highest figure in the U.S.
For all populations, the majority of obese persons lived in southern states.
As
more than 1 in 4
Florida residents are obese, many suffer from related health complications. The Sunshine State is 11th in the U.S. for the number of people with diabetes, and 16th for those suffering from hypertension.