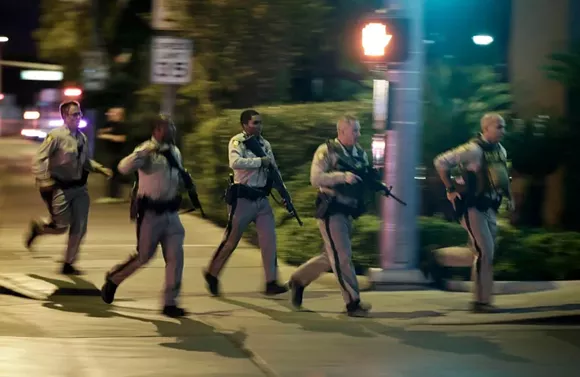 Last night,
Stephan Paddock
shot an automatic rifle from the 32nd floor of the Mandalay Bay resort in Las Vegas, killing an estimated 58 people and injuring at least another 500 attending a country music festival.
If it feels like mass shootings are becoming deadlier and more frequent,
it's because they are
. This tragic event is now the deadliest mass shooting in modern American history. For 16 months, Orlando's Pulse nightclub was burdened with this title, and before that, Virginia Tech.
Unfortunately, mass shootings have become so regular that our reactions are now incredibly formulaic. When tragedy strikes we fall into a predictable cycle that ultimately leads to nothing being done.
In fact, it's gotten so bad that
The Onion
now just reruns the same article titled "
No Way To Prevent This,' Says Only Nation Where This Regularly Happens
," every time there's a new shooting.
This isn't normal. The frequency and severity of mass shootings isn't normal. Sadly, our inability to do anything about gun violence also isn't normal.
We're clearly stuck in an endless loop of mourning, and we know exactly how these things unfold:
1. Over the next few days politicians and other elected officials will offer their
"thoughts and prayers."
This is a kind, but hollow gesture that says, "I recognize how bad this is, but I won't actually do anything about it."
2.
Anyone calling for gun reform will be accused of trying to "politicize" the tragedy
and will be met with "too soon," which is an arbitrary response with no indication of when it actually is appropriate to talk about gun violence.
3.
Gun sales will immediately spike
, as they do after every mass shooting because people fear the government will come for their guns.
4.
Fake news will be working overtime
and people will believe literally the dumbest conspiracy theories about the gunman's motives.
5.
The shooter's name will be splattered everywhere
in a way that inadvertently glorifies their actions.
6.
We'll argue over the semantics of the word "terrorist,"
and settle on words like "lone wolf," or "lone gunman" or "local shooter." Of course, if the person is Muslim, the word "terrorist" will unfortunately be used without hesitation.
7.
Police will use the shooting to argue that this is why they need more military grade equipment
, and ultimately they'll probably get it.
8.
Politicians will use the tragedy as a political tool.
NRA-backed Republican lawmakers will argue that this is why we need to allow more guns in public places, and Democrats will likely introduce some symbolic bill that has no chance of passing, but makes them look good to their base.
9. Most importantly,
we'll mourn those who died and try to get to know them all.
We'll hold vigils, memorials, build statues and create foundations. We'll also become familiar with those who survived and follow their struggles.
10.
In the end, no meaningful gun reform will be passed,
another mass shooting will eventually happen, and we'll become slightly more numb to gun violence.
Things look bleak, and while there's no one particular way to remedy this cycle, maybe a good place to start would be by reminding our elected officials that action speaks louder than tweeting their "thoughts and prayers."