We told you Friday that Kadence,
the new nine-seat omakase restaurant by the talented trio behind Kappo and Konbini at East End Market, opened
.
Well, later that night, I had the opportunity (at full menu price; no freebies for me) to partake in the superlative multicourse sushi omakase fashioned by Mark Berdin, Lordfer Lalicon and Jennifer Bañagale. For sushi purists, there's no better omakase to be had in town.
Get your scroll finger on and feast your eyes: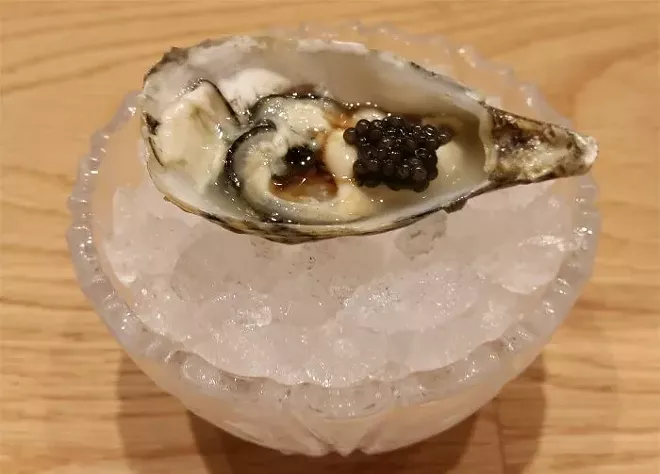 Shigoku oyster, paddlefish caviar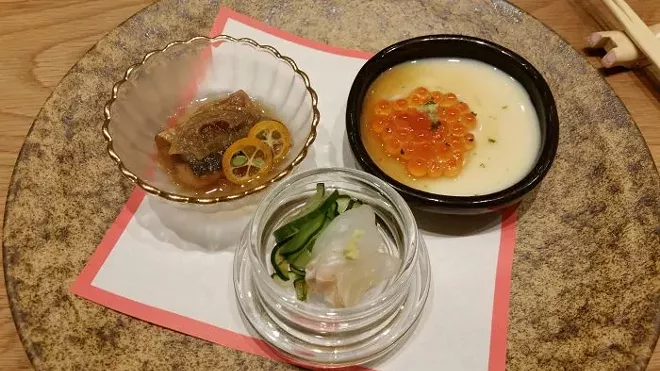 Clockwise from bottom: Marbled sole w/ pickled cucumber; marinated pike mackerel with kumquat; ikura (salmon roe) with Japanese egg custard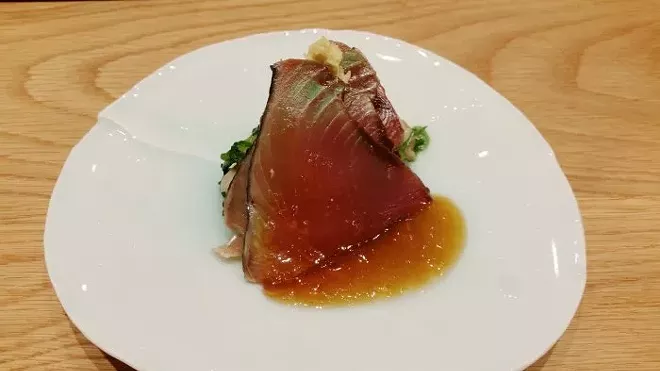 Bonito with watercress, maitake mushrooms, dark soy, vinegar, dashi, and ginger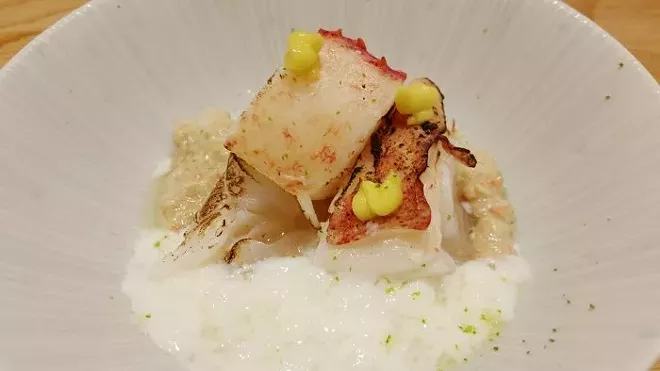 Seared Maine lobster, coral (tomalley) sauce, poached egg white, kimizu (egg and rice vinegar dressing)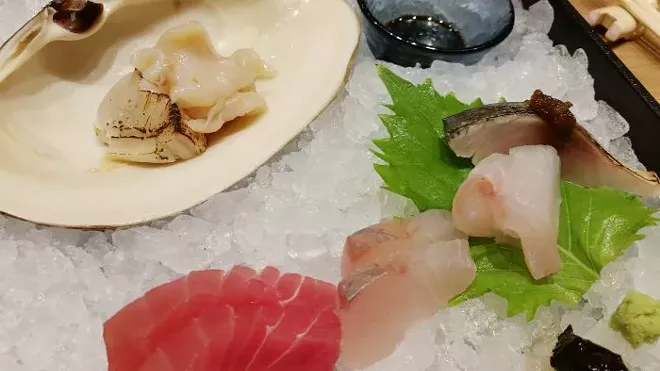 Sashimi (clockwise from top left): Aoyagi (orange clam), saba (Japanese mackerel), hata (Japanese grouper), baby kanpachi, aged bigeye tuna
Baby cuttlefish "noodles," hackleback caviar, shiso
Nigiri of shimaaji (striped mackerel)
Nigiri of kanpachi (Japanese amberjack)
Nigiri of kinmedai (goldeneye snapper)
Nigiri of aji (Japanese horse mackerel)
Nigiri of iwashi (Japanese sardine)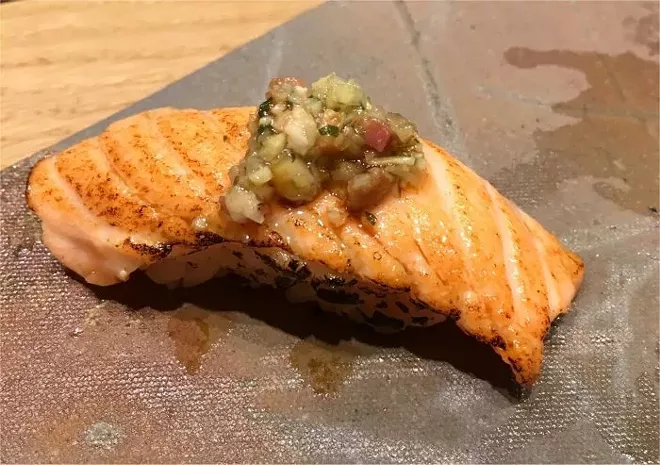 Nigiri of New Zealand king salmon with ginger and bacon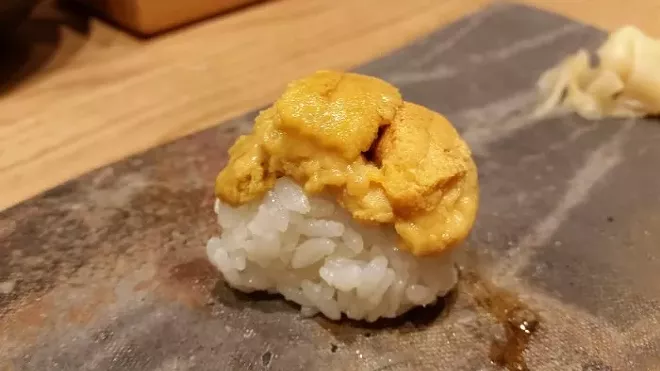 Nigiri of foie gras with donko shiitake mushroom
Yuzu marinated ikura, nuka pickled daikon leaves
Toro and hackleback caviar hand roll with scallion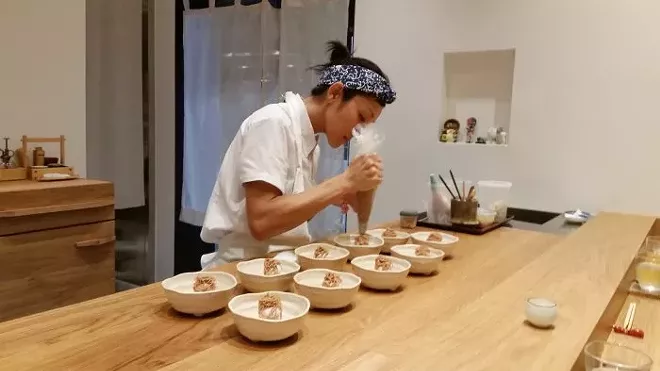 Jennifer Banagale prepping dessert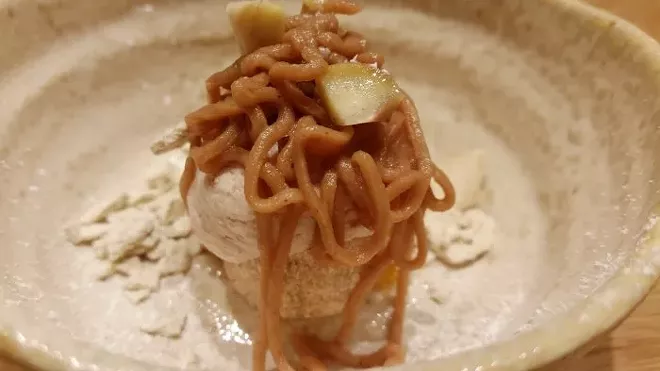 Deconstructed Mont Blanc: Chestnut-rum mousse, candied orange peel, chestnut puree, red bean cream, roasted green tea meringue, fresh chestnut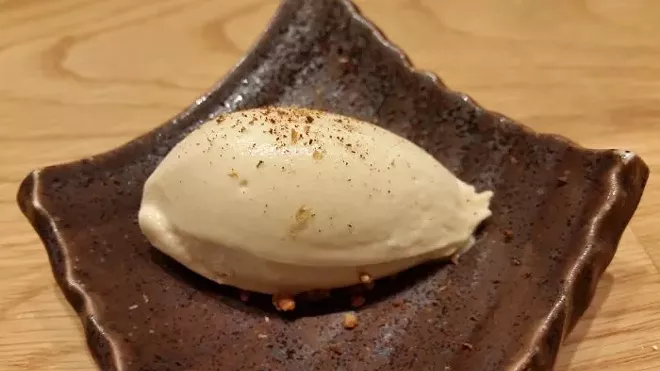 Fernet ice cream, roasted brown rice, ground Lineage coffee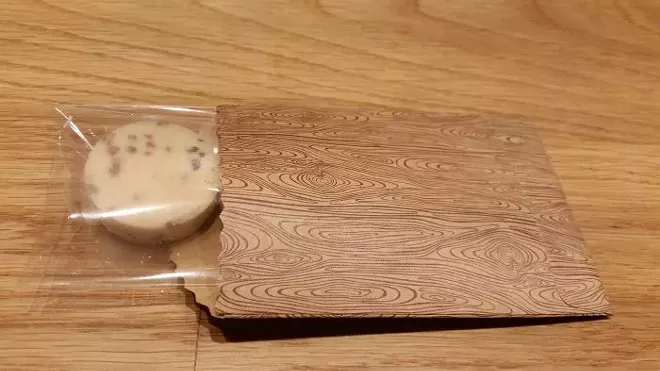 Roasted brown-rice powder cookie
L to R: Mark Berdin, Lordfer Lalicon, Jennifer Banagale hamming it up

Kadence
1809 E. Winter Park Road
Orlando, FL 32803
kadenceorlando.com