Photo by Monivette Cordeiro
The minutes seemed like hours as the bells of the First United Methodist Church of Orlando tolled 59 times for each person killed in the mass shooting in Las Vegas.
More than a year ago, the same bells rang 49 times, one for each person killed by a gunman in Orlando's gay nightclub Pulse on June 12, 2016. At the time, it was the deadliest mass shooting in modern American history. On Sunday, Las Vegas gained the notorious title when a gunman shot from his 32nd-floor window at the Mandalay Bay Resort and Casino into a group of about 22,000 people enjoying a music festival. More than 500 people were injured in the attack and 58 people lost their lives. Initially, reports gave the death toll as 59 people, though Las Vegas officials later clarified that the number included the shooter, Stephen Paddock, who reportedly killed himself before police reached him.
Photo by Monivette Cordeiro
At a vigil in Orlando for Las Vegas Tuesday night, mourners signed a large banner with messages of love and hope for a city's whose situation they uniquely understand. Barbara Poma, owner of Pulse, says people in Orlando know how it feels to wait for the news of loved ones, to stand in line to give blood, to pass out water and to just hold each another.
"Our hearts were shattered that Sunday morning of June 12 and waking up to the news of this tragedy has reopened those wounds and triggered our memories, our fears and brought our hearts and minds back to a very dark place," she says. "But we cannot allow ourselves to regress. We cannot allow evil to break our bonds. We cannot allow hatred to divide our country. We will not and cannot let hate win. We must stand up with the people of Las Vegas. We must be there to hold them up. Let's show them that they're not alone."
Photo by Monivette Cordeiro
Survivor Norman Casiano-Mojica was shot twice in the attack at Pulse and lost friends that night. More than a year later, he still uses a cane to walk because he's in pain – the bullets left him with nerve damage in his back that causes his legs to occasionally go numb. At Tuesday's vigil in Orlando, he couldn't find the words to explain the Las Vegas massacre.
"I just can't believe all of this is happening again," he says. "I still haven't been able to completely explain what happened to me at Pulse and what happened to my friends at Pulse. I still ask myself why every day and try to find a clear moment. I get frustrated at trying to find an answer, but there's no exact answer. I just have to live through it. I just have to move forward."
Casiano-Mojica says that Las Vegas survivors will be feeling at their lowest after the tragedy, but things will slowly get better, though it won't be easy.
"Right now, it's their darkest time," he says. "They don't think there's a light but hopefully seeing these interviews and hearing this helps them see that there is a light."
Casiano-Mojica says at first, he was hurt by people online who called him a liar and falsely claimed the Pulse attack was a hoax – now, he ignores them. The Pulse survivor advised Las Vegas victims' families and survivors to focus on themselves.
"Try not to dwell too much on the situation," he says. "Try not to find an answer as to why. Just look forward from that point on at the healing process. Try to get as much joy in your life, try to get as much laughter in your life – friends, family, anything that is good vibes for you. There are going to be a lot of in-your-face questions, and you're going to be all over the TV, but that is not what's going to define you. Surviving and making it out and being stronger is what defines you."
Christopher Cuevas, executive director of
QLatinx
, says it's important for survivors and other people in Orlando to take care of themselves and process their emotions, which may be triggered by memories of the Pulse massacre.
"The most powerful thing I've found is to be in community with your people," he says. "Connect with your tribe. If you can't do that, then allow yourself to succumb to those feelings that you're experiencing and hold space for it and constantly give yourself affirmation that you're OK, that you're alive, that you are powerful, that you are loved and you give love."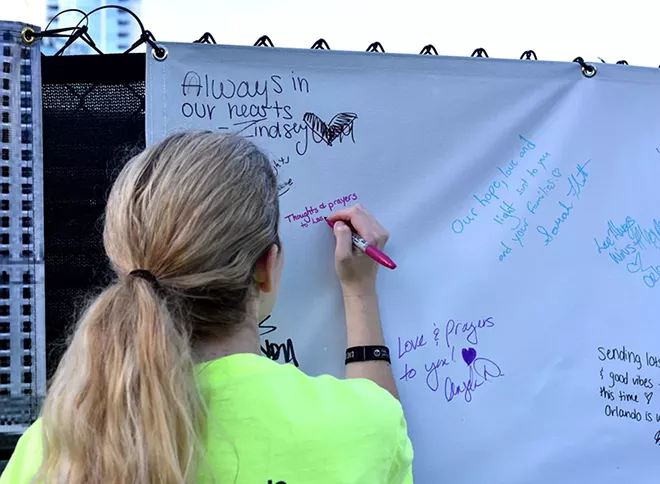 Photo by Monivette Cordeiro