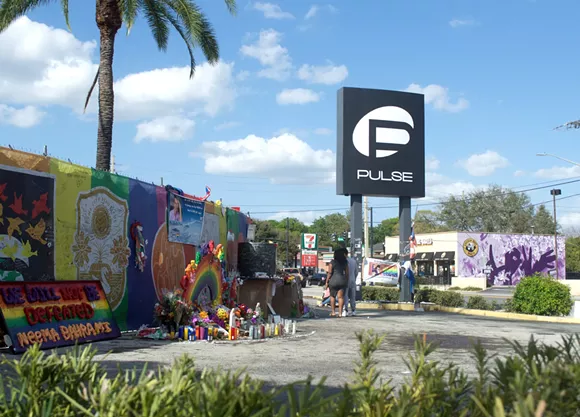 Photo by Monivette Cordeiro
Pulse nightclub owner Barbara Poma and the onePULSE Foundation have filed
plans
for a temporary memorial at the site of the mass shooting where a gunman killed 49 people and wounded dozens last year.
The
interim memorial
at 1912 S. Orange Ave. would include a new, more durable fence around the perimeter with artistic tribute murals; lighted benches and enhanced seating; landscape improvements; and an encasement that secures the Pulse sign, according to documents filed with the City of Orlando. The plans also include a steel wall with small holes where people can leave tributes.
Photo via City of Orlando
The temporary memorial was developed by
Dix.Hite + Partners
landscape architects and the onePULSE Foundation task force. The foundation intends for the interim memorial to exist for up to two years, with three possible one-year extensions, as they work toward a permanent memorial. A spokesperson for Poma said she would not comment about the interim memorial plans until the council meeting next week.
"These interim improvements are intended to clean up the site as further fundraising is secured and an international design competition is completed for a more permanent memorial," writes Dean Grandin, the city's planning director. "The future permanent memorial could have significantly more active uses than what exists today."
City staff has recommended that Poma and the onePULSE Foundation meet a number of stipulations on the property site before the Orlando City Council agrees to issue a temporary use permit. The improvements staff recommends including a parking management plan that includes off-site parking arrangements; way-finding signs for visitors; an on-site security plan developed with the Orlando Police Department; lighting upgrades; and a maintenance plan for trash collection and pick up.
City commissioners will be voting on issuing a temporary permit for the interim memorial at their regular meeting on Monday, Oct. 9 at 2 p.m. at Orlando City Hall, 400 S. Orange Ave. The onePULSE Foundation will be holding a
town hall
regarding the permanent memorial later that same day at 6 p.m. at the Orlando Repertory Theater on 1001 E. Princeton Street.
See related PDF