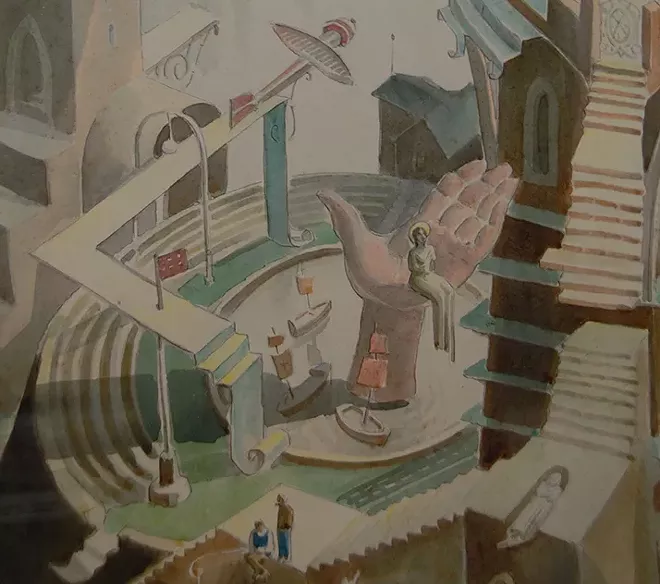 André Smith
Detail from "What Has Become of the Things I Loved"
If you missed 2015's Dalí exhibition at the Maitland Art Center, you didn't just miss out on Salvador's Saturnian giraffes and Martian self-portraits; you also missed a nifty selection of way-out watercolors by André Smith, the founder of the Research Studio himself. The new show
Drawing the Unseen: Artists Explore the Subconscious
, opening Friday, gives you the chance to remedy that. In 1936, after moving to Maitland and establishing the artists colony he called the Research Studio, Smith published
Art of the Subconscious
, 33 etchings accompanied by short texts that he produced using the Surrealist exercise known as "automatic drawing": He set paper on the easel, cleared his mind, then drew whatever floated into his consciousness. The resulting works "have in them the
topsy-turvy qualities of dreams: vivid during the occurrence, but seldom recalled upon awaking," as Smith put it. The delicate, emotional images are dazzlingly hyper-detailed, massing layers of familiar objects in wholly fantastical juxtapositions, with poetic titles like "Women Know Where Men Love Best to Roost."
Drawing the Unseen
accompanies Smith's work with that of five local artists, and the Friday night Culture Pop opening party
accompanies first views of the show with their usual campus-wide celebration of the senses – artist talks, live jazz, free food, cash bar, and one-night-only pop-up exhibitions strewn throughout the beautiful grounds.
6-9 p.m. Friday, Oct. 6 | Art and History Museums – Maitland, 231 W. Packwood Ave., Maitland | 407-539-2181 |
artandhistory.org
| $5