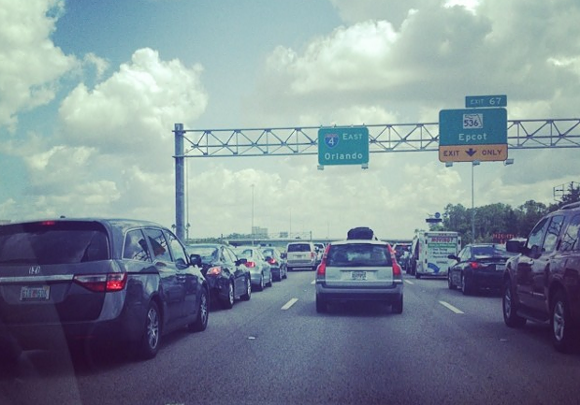 Photo via wattskl/Instagram
To say traffic in Orlando is a problem would be an understatement, but thanks to the Federal Highway Administration your daily commute may get a little better.
Yesterday, the FHWA awarded $11.9 million to
The Florida Department of Transportation
,
MetroPlan Orlando
and
University of Central Florida
. The grant aims to develop intelligent transportation systems (ITS), which will hopefully make conditions on the roads safer for drivers, transit riders, pedestrians and bicyclists in the Orlando area.
According to the FHWA, some of the systems these organizations will develop include:
-PedSafe, an innovative pedestrian and bicycle collision avoidance system.
-GreenWay, a system that uses advanced traffic signal technology.
-SmartCommunity, which will be utilized for trip planning apps.
-SunStore, a program that integrates FDOT data.
The grant was announced by
Rep. Stephanie Murphy
.
Back in March, Murphy,
Val Demings
and
Darren Soto
sent a letter to the Trump administration calling for federal investments in the national transportation infrastructure. The letter also called for improvements to the Orlando International Airport, I-4 and SunRail.
"Orlando is one of the fasting-growing cities in the country, and it's critical that our transportation system keep pace," said Murphy. "This grant will help make Orlando's roads safer and less congested, and give residents a wider range of transportation options."
As we
previously reported
, Orlando ranks as one of the top cities for the the length of time people spend in traffic. In a
2006 study
, Florida took the top spot as the worst state in the nation for drivers.