Photo by Monivette Cordeiro
The group Gays Against Guns holds a rainbow banner outside the Orange County courthouse in support of the assault weapons ban.
Orlando lawmakers and gun reform activists say they had planned months in advance a rally outside the Orange County courthouse on Tuesday to renew the push for a ban on assault weapons and large-capacity magazines.
Then on Sunday, Las Vegas happened. On Oct. 1, a shooter looked out from his 32nd-floor window at the Mandalay Bay Resort and Casino and with a gun modified to fire as an automatic weapon, ended the hopes and dreams of 58 people and traumatically injured more than 500 others. In mere minutes, the Las Vegas massacre became the most deadly mass shooting in modern American history, surpassing the death toll of 49 people killed by a gunman using a semi-automatic Sig Sauer MCX rifle during the 2016 mass shooting at the gay nightclub Pulse in Orlando.
Patti Brigham, first vice president of the League of Women Voters of Florida, says lawmakers aren't elected for their "thoughts and prayers" after mass shootings – they're elected to pass laws that protect their constituents from gun violence.
"I heard a television commenter who shall remain unnamed say that these mass shootings are the price of freedom," Brigham says. "How are we free when we can't go to a movie, a class at school, enter a nightclub or attend a concert without fear of being shot? That is not freedom. That is enslavement to a run-amok gun culture that puts firearms over human beings."
Photo by Monivette Cordeiro
State Sen. Linda Stewart and Rep. Carlos Guillermo Smith, both Orlando Democrats, filed joint bills
SB 196
/
HB 219
in the Florida Legislature that would prohibit the sale or transfer of an assault weapon or large-capacity ammunition magazine. Stewart and Smith filed
similar bills
last session with the support of many Pulse survivors and victims' families, but their legislation did not get a hearing in committee. Pro-gun advocates in the state Legislature say banning assault weapons would infringe on the rights of people who follow the law and claim Democrats are "trying to take advantage of the tragedy," according to
The Capitolist
.
"Now I'm having the same feedback: 'Oh, it's just too early to talk about these restrictions on assault weapons,'" Stewart says. "It's not to early – it's too late."
Photo by Monivette Cordeiro
Sen. Linda Stewart
With a Republican-led state Legislature, Stewart and Smith aren't naive to the fact that their bill is likely to fail – but at the least, they want a public discussion in Tallahassee and a vote recording every lawmaker's position.
"We thought maybe some might think it was insensitive for us to have this press conference, as we had planned today," Smith says. "But I think that it is quite the contrary – it would be insensitive not to move forward with this legislation to protect our constituents from gun violence."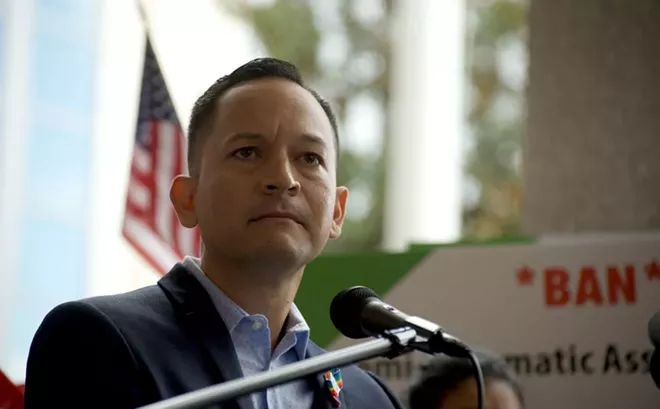 Photo by Monivette Cordeiro
Rep. Carlos Guillermo Smith
Even after the Pulse massacre, the previous bills Smith and Stewart filed against assault weapons were given the reception of a "a cricket convention," Smith says. Republican leaders in the Florida Legislature are more concerned with
expanding
access to guns, and the Orlando Democrat complains that Rep.
R
oss Spano
, chair of the House Criminal Justice Subcommittee, didn't believe gun violence was enough of an issue but filed legislation this year to declare pornography a public health crisis in Florida. Shortly after his bill was filed,
Orlando Weekly
found that Spano's Twitter account had
"liked"
a pornographic clip back in January.
"If I sound angry, it's because I am angry," Smith says. "I am angry that we can't even have this conversation. Assault weapons have no legitimate civilian purpose. There is none. They are made to be bought off the shelf as weapons of mass destruction. … I've thought about my friends, who in the last moments of their proud gay lives were shot not once, not twice, not three times or four times. I know some folks shot five, six, seven, eight times, even nine times."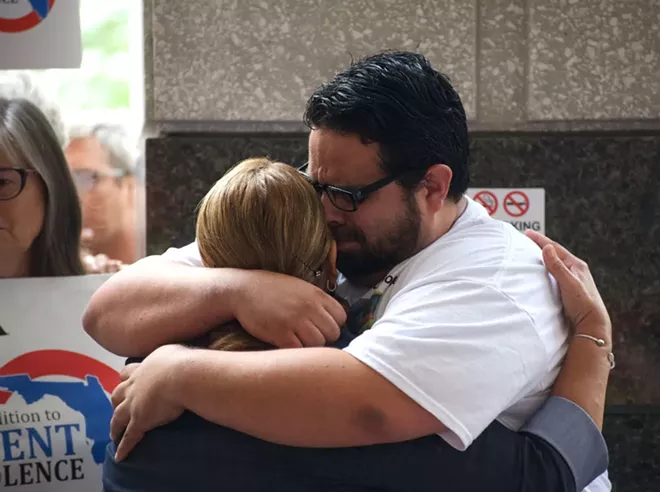 Photo by Monivette Cordeiro
Brian Alvear hugs his mother, Mayra Alvear-Benabe
More than a year ago, Mayra Alvear-Benabe's daughter was taken away from her on June 12. Amanda Alvear, 25, and her best friend, Mercedez Flores, 26, didn't make it out of Pulse the night of the massacre. Alvear-Benabe says her heart bleeds for the families of the 58 people who were killed in Las Vegas.
"I am outraged that the sale of these kinds of weapons haven't ceased after all of these attacks," she says. "I'm outraged that profit margins are more important than the people we have lost. I am here to speak for them, and I will be darned if I will not be their voices. … Never in a million years did I think that something like that was going to happen to someone that I loved, to the loved ones of so many families. I don't want anyone else to live with this pain, this hurt, this sorrow. No one should have to go through this horrific nightmare."
Brigham, who leads the Florida Coalition for Gun Violence, says there is more conversation in Tallahassee regarding gun reform because of the size of the coalition, which includes more than 125 different organizations.
"Does that mean the bills were heard this past session – no, which is unacceptable," she says. "The pro-gun bills are heard all the time, but not gun-safety bills. We are going to keep at it until these bills get hearings."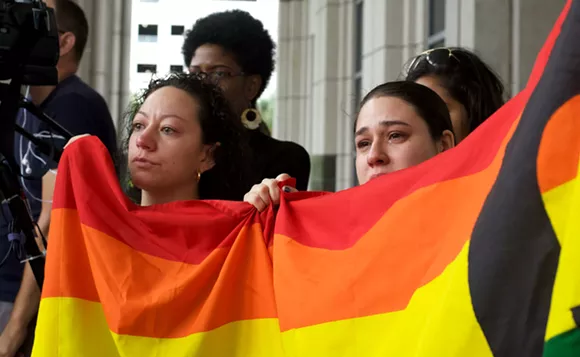 Photo by Monivette Cordeiro