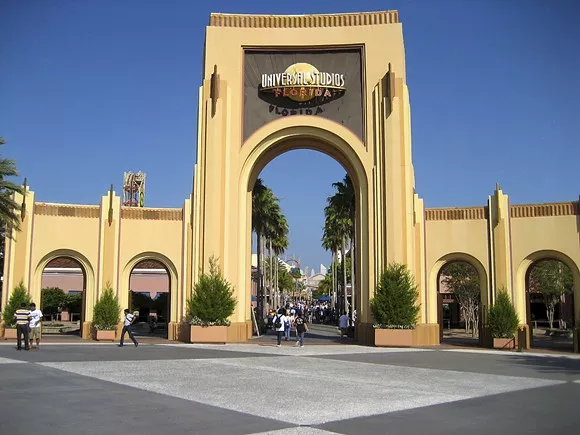 Last week we shared details of the rumored new
Star Trek attraction
coming to Universal Orlando. That plan is actually a
long-canceled project
that seems to now be back on the front burner. Universal has also recently shared details of other projects that were believed to be dead, including a Hogsmeade expansion
replacing Dragon Challenge
and a new
nighttime lagoon show
at Universal Studios Florida.
The rumors of a new
Diagon Alley expansion
replacing Fear Factor Live and other projects that have previously believed to be dead, like the
Secret Life of Pets trackless dark ride
, all now seem very much alive. The rumblings regarding these various projects being resurrected may point to a bigger plan at Universal.
The rumors regarding projects like Star Trek, Secret Life of Pets and Seuss Landing updates have gotten louder since July – right around the time that Disney announced the largest expansion at Walt Disney World since the opening of the Animal Kingdom in 1998. Major new blockbuster attractions, new hotels and all-new transit options were announced for WDW. It looks like this
aggressive plan
for the
WDW 50th Anniversary
in 2021 has caused Universal to shift some of its own expansion plans.
Insiders have been talking of a "one to two new attractions per year" plan for the Orlando parks. In 2018 the new Fast and the Furious attraction, which replaced Disaster!, will open and we'll see the new nighttime show, some rumored new updates to the parade, and possibly some new entertainment in Islands of Adventure. In 2019, things pick up with the new Hogsmeade expansion opening in Islands of Adventure and perhaps a new major attraction at Universal Studios Florida.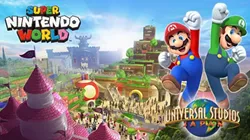 That same year, 2019, Disney plans to open its highly anticipated Star Wars land,
Star Wars: Galaxy's Edge
, at Hollywood Studios. We know very little about what else Universal has between 2019 and 2021 with the only other major project confirmed for the resort being the
Super Nintendo World
area. It's strongly believed that the Nintendo expansion for Universal Orlando will be in the area at Universal Studios Florida where Kids Zone is currently.
Various rumors since the project was first announced in 2015 have included everything from nearly a dozen carnival-style flat rides to a few major groundbreaking E-ticket attractions. In recent months the general consensus pointed to two E-ticket-style attractions for the land, one being the confirmed for Japan Mario Kart ride and one likely based around Yoshi.
Now it looks like we may see at least one more major attraction added to the lineup plus possible Nintendo-branded attractions next door in Islands of Adventure.
We may also see that Star Trek attraction, rumored to be the replacement for Terminator 2, now being moved to somewhere else in the resort with the T2 attraction being a live-action show possibly themed to Jason Bourne. Another strong rumor is a Sing!-based show that would be similar to the Monsters Inc. Laugh Floor attraction at the Magic Kingdom that combines live dialogue with animated characters. Still other rumors point to Pitch Perfect, James Bond, or even Wicked.
The important thing with
all of these rumors
is that after years of silence Star Trek is now back in the conversations. Jim Hill, the industry insider who reignited the Star Trek rumors, shared specific details of the new attraction which points to this being more solid than previous rumors. All the recent rumblings seem to indicate Universal dusting off various shelved projects in its attempt to address the unprecedented growth planned for Disney World. This would allow for quicker builds since many of these projects already have years of preparation behind them, with some nearly shovel-ready.
All of this is designed as a stopgap as Universal works on incorporating other brands, like the
newly acquired DreamWorks
franchises, and concepts, like a highly themed franchise-centric hotel. Universal does have some DreamWorks-branded projects, like a
How to Train Your Dragon ride,
that may be part of this accelerated construction timeline opening sometime near the 2019 release of the third film in the franchise series. A new Trolls film, new Croods film, new Madagascar film, and two new Shrek films are all in development at DreamWorks Animation. All of these franchises have been whispered about.
Universal is currently working on three new hotels, including two on the former Wet 'n Wild property. Rumors still point to a third, er, fourth, theme park in the works as well, though Comcast may be now putting that on hold as it looks at
other options
for an expanded presence in the Orlando area.
With so many projects already in the works, some have expressed doubt
in
Universal's ability to find enough construction workers to meet the demands the accelerated timeline would create, but with the massive influx of new residents due to both Hurricane Maria and other natural disasters those concerns are less valid than they were just a few weeks ago.
Universal is infamous for its delay in announcing new projects, sometimes refusing to admit a project is happening even as it's being built, but with Disney going all-in on updating WDW we'll surely see plenty of action and news coming out of Universal Orlando in the coming years.