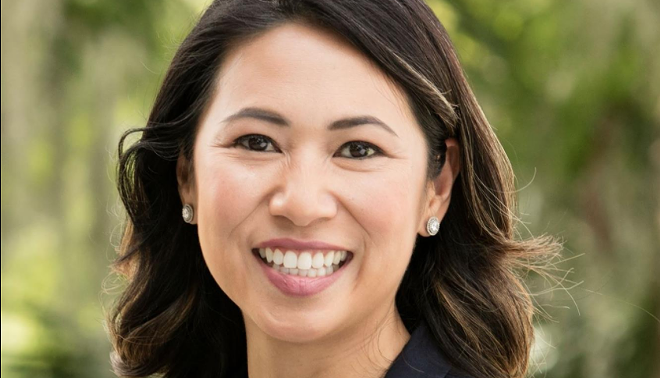 Photo via Stephanie Murphy/Facebook
Two years ago, I received a call informing me that my son's school had been placed on lockdown after an active shooter warning was issued in the area. My son and his pre-school classmates were rushed into a supply closet and told to remain silent for hours. When I was finally able to pick my son up, he was visibly distressed. He struggled to tell me about the confusion he felt as his typical school day was shattered by the sound of police sirens wailing and helicopter rotors whirring overhead. I'll never forget how I felt, searching for words to explain the situation to my young son and to ease his fears.
These feelings of pain and powerlessness came flooding back recently when my family, like millions of other Americans, awoke to the news that a man—armed with enough weaponry to equip a Marine platoon—had opened fire on a crowd of concert-goers from his Las Vegas hotel room. For 10 minutes, the shooter rained down hell. Fifty-nine people were killed, over 500 were injured, and thousands more will carry psychological wounds for the remainder of their lives.
In the aftermath of that attack, the images flickering on the television screen were painfully familiar in Orlando, part of which I represent in Congress. In June 2016, a man—using a weapon designed for war—entered the city's Pulse nightclub. By the time he was done shooting, 49 people lay dead, most of them young men and women with so much of their lives ahead of them.
It was the deadliest mass shooting in American history. That is, until Las Vegas. In both cases, a deeply disturbed individual was able to inflict many casualties in a matter of minutes. In each instance, a celebration of life was transformed into a scene of devastation and death.
Orlando and Las Vegas share a tragic bond—two cities that have endured senseless loss of life on a mass scale. Our community's empathy manifested itself in acts of grace, as survivors of the Pulse attack traveled to Las Vegas to help victims come to terms with their trauma.
Remarkably, in the 16 months between the Orlando and Las Vegas shootings, the Republican-led Congress did not even make a good-faith effort to enact a single measure to keep the most dangerous weapons out of the hands of the most dangerous individuals. Such inaction runs counter to the will of the public. Surveys show that 90 percent of Americans support commonsense measures that comport with the Second Amendment and would reduce gun violence, such as universal background checks and "no fly, no buy."
Even more galling, the U.S. House this year has twice postponed a vote on a bill making it easier to obtain gun silencers because, just prior to the scheduled vote, a high-profile gun violence incident occurred—the first an armed attack on Members of Congress at a baseball practice and the second the attack in Las Vegas.
Gun violence—whether it takes the form of daily shootings on our streets, suicide, domestic violence, or mass shootings—is a significant cause of premature death and disability in this country. As such, we need to carefully study its causes and identify reasonable ways to reduce its frequency.
Here's the catch. For more than 20 years, Congress has annually approved a provision—called the Dickey amendment—that essentially prohibits the Centers for Disease Control and Prevention and other federal health agencies from sponsoring independent research into the causes of, and potential solutions to, gun violence.
One of the first bills I filed after becoming a Member of Congress in January would repeal the Dickey amendment. Experience has shown that fact-based research can save lives. Consider, for example, automobile safety. In an effort to reduce the number of Americans losing their lives in car accidents, the federal government sponsored research that ultimately led, not to the banning of cars, but rather to the installation of safety features like seat belts, air bags, back-up cameras, and car seats for children.
The American people expect their elected leaders to legislate from a place of knowledge, particularly when it's a matter of life and death. Repealing the Dickey amendment is a modest but meaningful step in the right direction. It will give public officials the facts they need to legislate wisely. What elected leaders do with those facts is up to them, and the public should hold them accountable for their action—or inaction.
As a lawmaker, I cannot accept that the outdated Dickey amendment is preventing our government from having an honest and informed conversation about how best to address the epidemic of gun violence in our country. As a mother, I cannot accept that our citizens, especially our children, must live under constant threat.
On the day my son's school was placed on lockdown, I struggled to explain to him what had occurred. After Pulse and Las Vegas, I struggle to explain to my constituents how—in a society as great as ours—we can watch as schools, places of worship, movie theaters, baseball practices, and concerts are instantaneously converted into battlefields. And yet do nothing about it.
Every American, including the millions of proud and responsible gun owners, should support reasonable reforms that both respect our Constitution and make our country safer.

Stephanie Murphy is a representative of Florida's District 7, which covers all of Seminole County and much of northern Orange County, including downtown Orlando, Maitland, Winter Park, and the University of Central Florida.

***The Op-Ed was updated to clarify that Murphy was referring to the Dickey amendment and not the 2nd Amendment, in the twelfth paragraph.