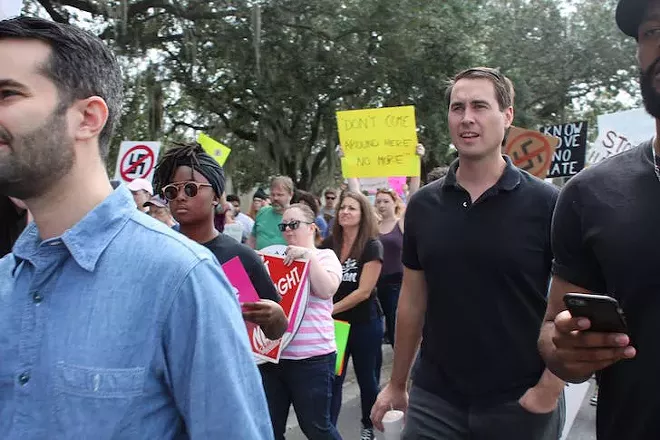 Photo via Chris King/Facebook
Winter Park businessman Chris King was the only Florida gubernatorial candidate to attend yesterday's protest of white supremacist Richard Spencer at University of Florida.
Dressed in all black, King joined the estimated 3,000 marchers as they gathered outside of the Phillips Center for the Performing Arts and chanted down Spencer and other members of his group, the National Policy Institute.
"It was encouraging to see such a massive and diverse group of students, activists, and community leaders come together to stand up for inclusion, equality, and love," said King in a
Facebook post
. "Together, we outnumbered Spencer's supporters and showed that hate has no place in Florida."
Photo via Chris King/Facebook
Spencer's speech was all but completely drowned out by non-stop booing and chants inside and outside the auditorium. "You think that you shut me down, but you didn't. You even failed in your own game," said the racist.
So far, King's campaign trails Democratic contender Gwen Graham in total money raised with $1.7 million in September, according to the
Palm Beach Post.