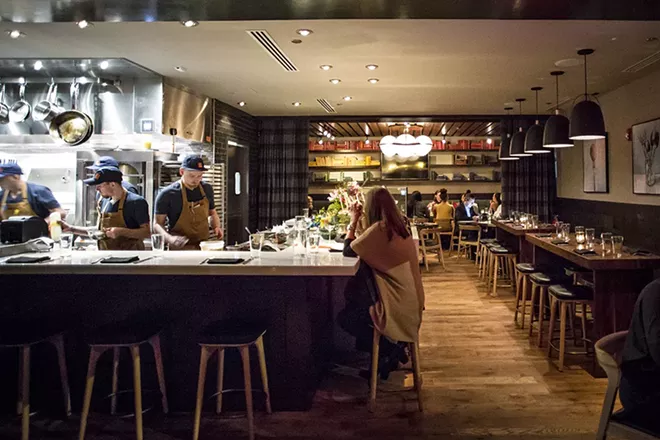 photo by Rob Bartlett
Lukes KItchen + Bar
Hurricane Irma fallout continues, but Orlando continues to prove it's willing and capable of supporting its own. In this case, it's small local farm Zenn Naturals that took the hurricane hit, and Park Lights Hospitality Group (Luke's Kitchen + Bar, Luma on Park, Prato) that's stepping up to help.
Husband and wife Zach Kauffman and Jennifer Schaffner are are first-generation farmers who have run Zenn Naturals together (the name is a combo of their first names) for three years, providing produce to Luke's, Luma, Prato and many other local restaurants. Kauffman and Schaffner recently installed two new greenhouses, which Irma came along and destroyed.
photo by Rob Bartlett
Diver scallops with horseradish and sunchoke chips (Luke's)
Luma and Luke's chef Brandon McGlamery, along with chefs from Smiling Bison and 1921 Norman Van Aken will host the Fall Fest & Hurricane Relief Luncheon for Zenn Naturals at Luke's Kitchen from noon to 4 p.m. Saturday, Nov. 4. For a minimum donation of $50 per person, guests will be served an assortment of seasonally inspired dishes, and included in that price will be two complimentary drink tickets for cocktails, beers and wine.
For ticket information and more information, please visit gofundme.com/zennfarm.