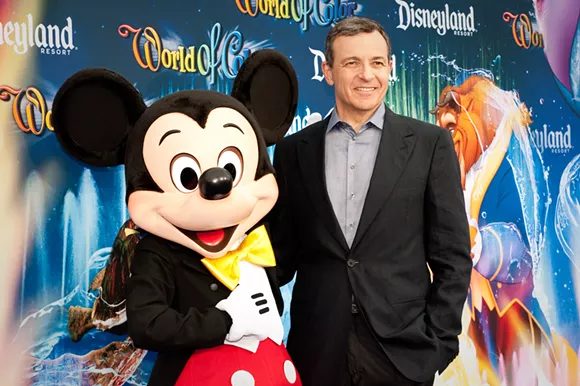 Disneyland, "The bitterest place on Earth."
The Walt Disney Co. has banned the
Los Angeles Times
from screening any of its films in advance after the paper ran a
two part series
describing the company's poor relationship with the City of Anaheim.
The paper released a
statement
this morning regarding the situation:
The annual Holiday Movie Sneaks section published by the Los Angeles Times typically includes features on movies from all major studios, reflecting the diversity of films Hollywood offers during the holidays, one of the busiest box-office periods of the year.

This year, Walt Disney Co. studios declined to offer The Times advance screenings, citing what it called unfair coverage of its business ties with Anaheim. The Times will continue to review and cover Disney movies and programs when they are available to the public.
The series in question, "Is Disney paying its share in Anaheim? The money battle outside the Happiest Place on Earth," ran last September and looked at the tense relationship between the company and the city. One of the highlights in the story, besides the bloated tax breaks, is how Anaheim built/gifted a $108 million parking garage to Disney, and now the company makes at least $35 million a year from it and the city makes zip.
The whole report is worth a read, and it's hard not to see some similarities here in Orlando.
For now,
The Los Angeles Times
says they will still review Disney films, but they'll just wait till they get released to the public.