THIS LITTLE UNDERGROUND
Alex Napping, The Hotelier and Oso Oso, Backbooth, Nov. 6

Kylie Shaffer
The Hotelier
Massachusetts band the
Hotelier
are one of the flagship bands of the
emo revival
that's in full moon right now. That status was reflected in the ardor of the crowd here, who came to shout, jump and point skyward
en masse.
The Hotelier at Backbooth
On the spectrum, though, the Hotelier pack a bit more than many of their peers, sometimes painting beyond with
greater nuance and dimension.
But even when it abides by emo convention, the music's got honesty, craft and commitment. And sometimes you just can't ask for more than that. So bleed on, sad boys.
The Hotelier at Backbooth
Fun fact for Orlando heads: The Hotelier originally went by the phonetically similar name the
Hotel Year,
which bears a conspicuous resemblance to
My Hotel Year,
themselves an emo act that was one of Orlando's most beloved indie bands. The Hotelier's
Wikipedia page
even details this coincidence in a sort of amusingly catty way wherein the band changed their name because they "did not think the name was any good and there was a band called My Hotel Year which they did not want to be confused with."
New York state openers
Oso Oso
pledge to the same flag with competent sentimental rock that lands on the right side of emo, balancing out the wails with some powerful and tuneful guitars.
Helmut Studio
Alex Napping
But looking forward, perhaps the band most worth watching is Austin's
Alex Napping,
who made their
Orlando debut
as the one non-emo band at the bottom of an otherwise all-emo bill.
Alex Napping at Backbooth
Because of its track record this decade as a leading antenna in the field, ambitious label
Father/Daughter Records
– a bicoastal operation whose eastern foothold is in Miami – has emerged as one of the most distinguished farm leagues in the indie rock world in recent years, with very notable picks like
Diet Cig
and
Vagabon
. And Alex Napping are one of the latest stars on the Father/Daughter roster with probably one of the
best albums
heard this year in
Mise En Place.
Alex Napping at Backbooth
Their guitar pop is a shimmering study in melody and mood that boasts
sparkling pop aptitude
and
interesting dynamics
– and it plays great on record. Live, however, the usually defining voice of frontwoman Alex Cohen was often so slight that it only seemed to contend in their quiet moments, which is unfortunate since the band's bigger strokes are their more distinctive ones. She finally stepped up midway through their set, though, luckily just in time for standout song "You've Got Me."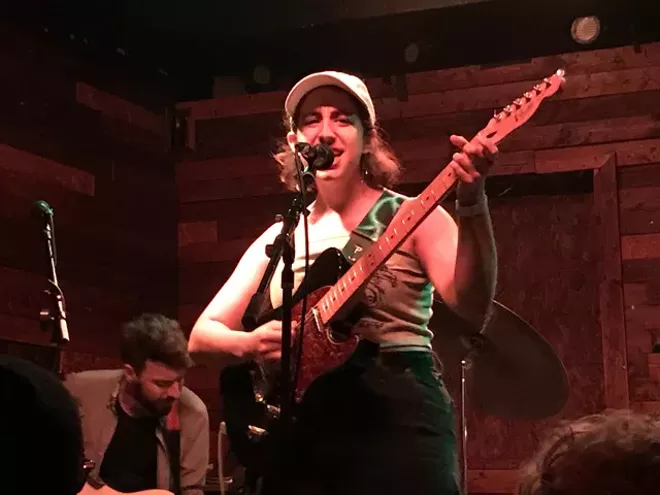 Alex Napping at Backbooth
Cohen's got a voice of character, it just needs to be dialed in and unleashed for them to fulfill their considerable potential. But when you have recordings that already show songwriting of
exceptional promise
like Alex Napping, all else is just a matter of time.
///////////////////////////////////////////////////////////////////////////////////////
This Little Underground
is Orlando Weekly's music column providing perspective, live reviews and news on the city's music scene.

Follow Bao on Twitter (@baolehuu)
Email Bao: baolehuu@orlandoweekly.com