THIS LITTLE UNDERGROUND
Shana Falana and the Welzeins, Will's Pub, Nov. 8

Jen Cray
Shana Falana at Will's Pub
The latest national name hosted by
OYG Presents
was New York's
Shana Falana,
a
Team Love Records
band that operates on the brawnier side of the dream-pop realm. While many of their contemporaries float among the clouds like seraphim, they ride through them like a jet on a sound that moves with thrust and ballast. Even though they swim in thick shoegaze and psych currents, they do it with punctuation. And they achieve the heavens with
melodic grandeur
rather than just ambience and ether.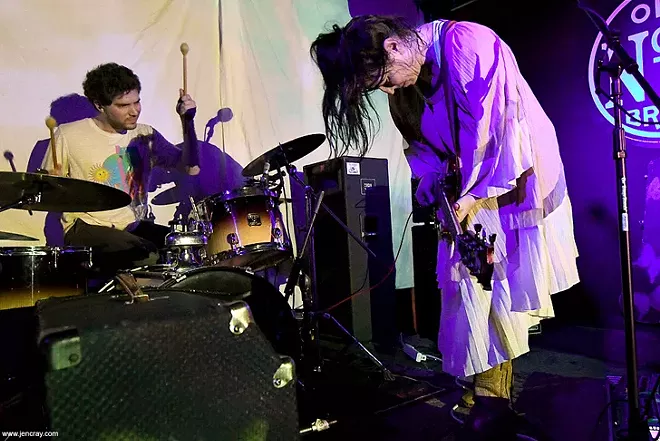 Jen Cray
Shana Falana at Will's Pub
Of particular note is that they're a small band that really know how to maximize their live presence. For just a twosome, they manage tons of atmosphere through pedals, loops and smart craft that allows a
Jack-and-Meg setup
to conjure the size and stratosphere of
Crocodiles.
Jen Cray
Shana Falana at Will's Pub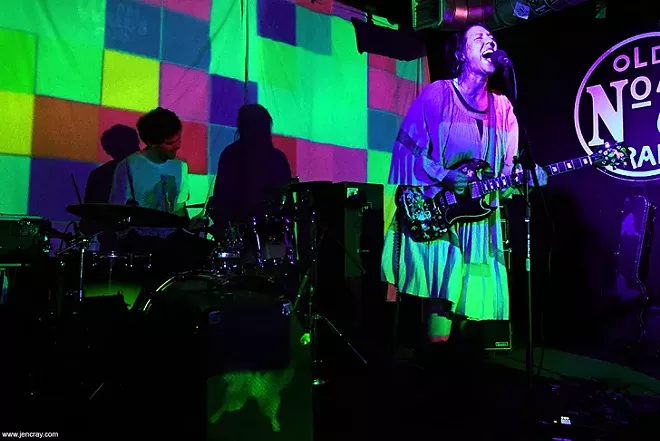 Jen Cray
Shana Falana at Will's Pub
That same all-out flair that allows them to punch above their weight sonically also spills over into their visual aspect. With low-tech projections and a
sophisticated filmic sense,
they were backdropped with great movement, pattern and color. It's simple but inspired presentation that elevates a concert into an experience.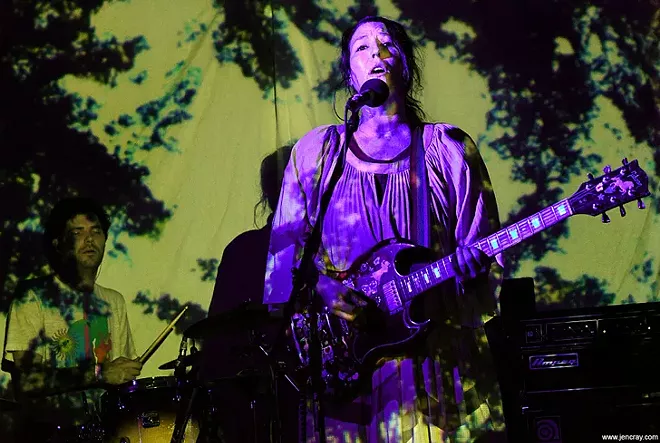 Jen Cray
Shana Falana at Will's Pub
Jen Cray
Shana Falana at Will's Pub
Also this night was a fresh look at Orlando's the
Welzeins.
Although I've covered what's long been known as one of the city's mightiest duos plenty from 2014 (like
here
and
here
) on up to as recently as this
March
, this was my first encounter with them as a recently expanded
trio.
Jen Cray
The Welzeins at Will's Pub
Saying goodbye to that raw two-piece sinew is hard, but this beefed-up array allows them newfound cogency in their apparent
pivot toward the heavy.
Now, the chopping riffs of their new stoner doom grooves drop with more tonnage and kill. The freewheeling heroics of guitarist-singer RJ Nordstrom are thankfully still intact, they just ride on the chassis of a
full rhythm section
now, making their rock bona fides all the more manifest and unequivocal.
Jen Cray
The Welzeins at Will's Pub
///////////////////////////////////////////////////////////////////////////////////////
This Little Underground
is Orlando Weekly's music column providing perspective, live reviews and news on the city's music scene.



Follow Bao on Twitter (@baolehuu)
Email Bao: baolehuu@orlandoweekly.com