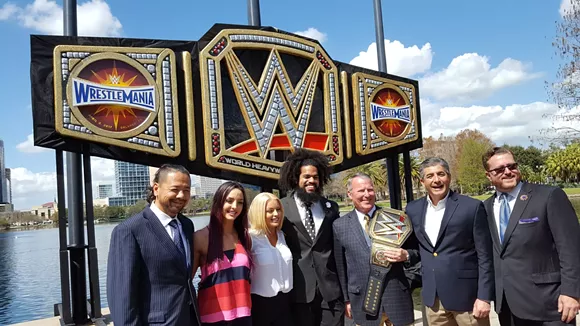 Photo via orlandomayor/Twitter
An independent
study
released today by the WWE and Mayor Buddy Dyer's office says Wrestlmania 33 dropped a $181.5 million tombstone piledriver on the Orlando region last April.
This number is a new record for the annual Showcase of the Immortals, which spanned six days and held the main event at Camping World Stadium on April 2. Wrestlemania also broke its own attendance record in Orlando with 75,245 fans, according to the report.
"On behalf of the residents of the City of Orlando, I would like to thank the tens of thousands of WWE fans that converged on our city to be part of WrestleMania Week," said Dyer. "The week-long series of events boosted our economy by bringing guests to our restaurants, shops and hotels, and also benefited our city through community outreach initiatives. We look forward to welcoming WrestleMania back soon."
A few highlights from the study:
- $181.5 million in direct, indirect and induced impact derived from spending by visitors to the Orlando region for WrestleMania.
- 33. 79 percent of fans that attended WrestleMania were from outside the Orlando region and stayed an average of 5.6 nights.
- $24.8 million was spent on hotels and accommodations within Orlando.
The next Wrestlemania will be held on Sunday, April 8, at the Mercedes-Benz Superdome in New Orleans.