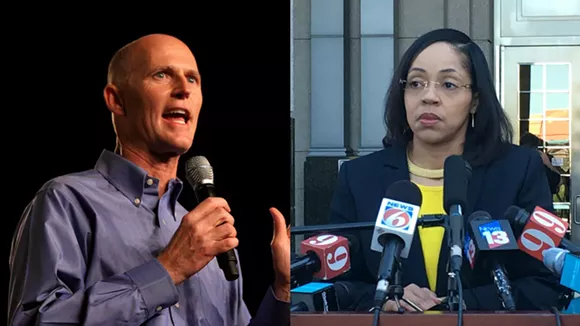 Orange-Osceola State Attorney Aramis Ayala and Gov. Rick Scott are quarreling over whose office is responsible for missing a deadline in a death-penalty case.
Scott and Ayala have been in a public feud since Ayala declared in March that her administration wouldn't be pursuing capital punishment for any cases during her time in office. Scott responded by taking more than two dozen first-degree murder cases away from Ayala and reassigning them to Ocala-based State Attorney Brad King. Arguing he didn't have the authority to remove her, Ayala sued Scott in the Florida Supreme Court but eventually lost. After the decision, Ayala announced in August she was assembling a seven-member panel of prosecutors who would determine what cases deserved the death penalty.
The feud was renewed this week after Ayala's office filed the state's intention to seek the death penalty on Oct. 31 for 33-year-old Emerita Mapp after the 45-day window had expired between the initial indictment and the state's filing. Mapp is accused of first-degree murder in the fatal stabbing of Zackery Ganoe, 20, at an Osceola County hotel last April. Mapp's attorneys have filed a motion to quash the state's notice of intention to seek capital punishment because of the missed deadline. A judge will decide next month if the state can proceed.
After learning of the missed deadline, Scott said in a statement that Ayala's actions were "absolutely outrageous."
"It is absolutely outrageous that Aramis Ayala failed to seek justice in the case against Emerita Mapp who is accused of attacking multiple people and killing Zackery Ganoe," Scott said last Friday. "I have been clear that I stand with the victims of crime and their families and they deserve answers from the State Attorney's Office on how this critical deadline was not met. I'll continue to review reassigning cases from her office since she is failing to fight for victims and their families."
But Ayala put the blame Monday on Scott's office, saying the governor "failed in his review" of her cases. Ayala said after her initial statement against seeking the death penalty in March, she was prepared to file death notices in appropriate cases to preserve deadlines, but Scott committed himself to reviewing all first-degree murder cases in her circuit and pledged to reassign them.
"Once the Florida Supreme Court issued its ruling regarding a prosecutor's discretion to seek death penalty, I created a death penalty review panel to review every first-degree murder case," she said in a statement. "At my direction, once they convened they reviewed every first-degree murder case since the start of my administration on Jan. 3. I requested the panel go back to the beginning of my administration to ensure Governor Scott did not make a mistake and miss cases, which he clearly did."
Ayala says she anticipated some cases had the potential to miss the 45-day deadline. The deadline for Mapp's case started when she was arraigned on Aug. 23, more than a week before the Florida Supreme Court sided with Scott and her office reinstated the death punishment as a possibility.
"Consistent with his public statement of reviewing and reassigning all potential death penalty cases, the Governor reassigned cases in April, July and August," Ayala said. "Unfortunately, the Governor failed to reassign this case or even acknowledge its potential as a death penalty case despite the fact the murder occurred on April 11, 2017 and has seven potential aggravators. It is clear, the Governor failed in his review and missed this case."
Ayala said the death penalty review panel discussed the case and "unanimously recognized it as an obvious death case."
"The state's ability to seek death penalty has not been compromised, and with the filing of the Notice of Intent to Seek Death, we have preserved the issue and remedied the Governor's failure," she said.
Still, Scott's office shifted the responsibility for Mapp's case back to Ayala on Tuesday, saying she had more than a month after the court's ruling to file a death notice by the Oct. 7 deadline.
"It is outrageous State Attorney Ayala is attempting to pass the blame for her failure," said McKinley Lewis, Scott's spokesperson, in a statement. "Let's be clear – State Attorney Ayala failed to meet this deadline and she alone is responsible for not fighting for justice for the victims in this case. … What possible excuse could there be for failing to do her job and missing a basic deadline on a case she is responsible for handling?"