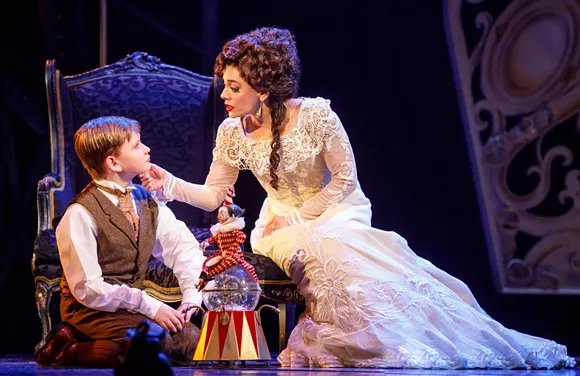 Photos by Joan Marcus
Jake Heston Miller ("Gustave") and Meghan Picerno ("Christine Daaé") star in 'Love Never Dies'.
As anyone who has suffered through
Bring Back Birdie
or
The Best Little Whorehouse Goes Public
knows, Broadway has ignoble history when it comes to sequel-izing hit musicals. But after decades of development and productions on 3 different continents, one would have hoped for something better than
Love Never Dies
, the maddeningly misguided continuation of
Phantom of the Opera
that's currently visiting Orlando's Dr. Phillips Center. This new North American tour revives the beloved characters from Andrew Lloyd Webber's blockbuster original, but forgets everything that made audiences fall in love with them the first time around.
A decade after the curtain fell on the original play, the story picks up in New York City, where the Phantom (Bronson Norris Murphy) is overseeing a Coney Island sideshow. He lures his protege Christine Daeé to his theater for a command performance of his latest song, but when she arrives with husband Raoul (Sean Thompson) and son Gustave (Jake Heston Miller on opening night, alternating with Casey Llyons), old romantic rivalries once again erupt into kidnappings and violence.
Sir Webber's recitative-riddled score is hardly his strongest. There are only a handful of humable songs, the opening "'Til I Hear You Sing" and "Once Upon Another Time" chief among them. The title track is an insipid earworm, while others sound so much like royalty-free knockoffs of the original soundtrack ("Dear Old Friend" is an amusingly attempt to ape
Phantom
's "Notes") that if Webber didn't frequently weave in famous themes like "Angel of Music," you'd think this was unauthorized fan-fiction. Glen Slater's simple-minded lyrics are serviceable at best, following Charles Hart and Richard Stilgoe's literate poetry with repetitive rhymes like "voice/choice."
However, it's the story and script – credited to Webber and Ben Elton with Slater and Frederick Forsyth (author of the novel Phantom of Manhattan) – that dooms this show, by disregarding basic facts established in the first Phantom. I won't spoil the play's pulpy plot twist, but it depends on not only retconing the timeline of original's narrative, but reimagining the relationship between Christine and the Phantom as a consensual romance rather than the abusive horrorshow Gaston Leroux intended. The dramatalurgical damage isn't confined to the leading couple, either: Raoul has inexplicably become an alcoholic ass, and Madame Giry (Karen Mason) and her daughter Meg (Mary Michael Patterson) have become amoral gold-diggers, eliminating any carryover characters to root for. Despite aging 10 years, the characters all act aggressively immaturely; I ended up feeling empathy only for the colorful trio of sideshow freaks (Katrina Kemp, Stephen Petrovich, Richard Koons) who – like us – are forced to witness this farce.
The cast and creative team do their level best to polish this Thanksgiving turkey, but even Gabriela Tylesova's sumptuous cirque-influenced costumes and sets are too little, too late. Director Simon Phillips mostly has his actors "park and bark" in static old-school opera style, sorely underutilizing choreographer Graeme Murphy. And for a show about a master illusionist there's a distinct absence of stage effects, with no "wow" moments to approach
Phantom
's floating candles or crashing chandelier. The leads' powerful classically-cultivated singing voices are the production's saving grace, but while I'd pay to hear Picerno sing her role in the original, Murphy undermines his musicality with distractingly overwrought contortions that resemble Lon Chaney performing Kabuki (and not in a good way).
Despite its checkered history, the high school kid inside me who repeatedly bought student rush tickets to
Phantom
's original Broadway run really wanted to give
Love Never Dies
the benefit of the doubt. Now that I've experienced it, the best advice I can give to the millions of people who made its predecessor the world's most popular musical is to skip out on this fatally flawed follow-up. Love may never die, but if you see this show your emotional attachment to its classic characters might be mortally wounded.