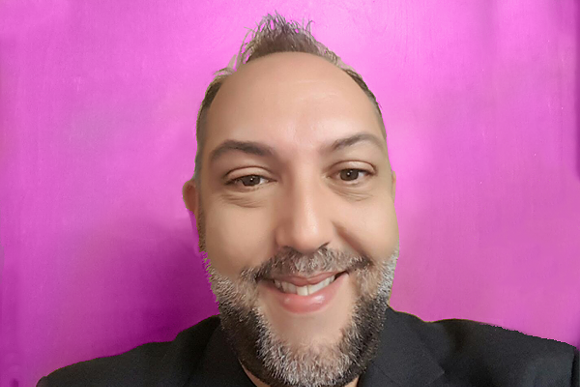 Today the GLBT Community Center of Central Florida announced that their search for a new executive director has ended happily with the hire of George Wallace.
Wallace, former executive director of Orlando Fringe Festival, left the city to take the post of associate director of IndyFringe in Indianapolis. But he's still got roots here, and when he heard about the vacancy, he says, "his heart leaped." In a press release, the Center's board president, Jeff Buak, said, "We believe he is just the right person, at just the right time, to lead The Center to meet its mission, but also to help expand The Center's services and programs to the LGBTQ community."
Wallace's start is scheduled for Dec. 18, meaning he will mostly avoid having to live through another Midwestern winter. The Center's Board of Directors will host a welcome reception with him 5:30-8 p.m. Thursday, Jan. 11, the Center. Below our interview with Wallace, find the Center's full press release on Wallace's hiring.
Orlando Weekly: Did the board approach you, or did you hear about the opening and apply?
Even though I am in Indiana, I stayed connected to Orlando. I saw the job posting come across one of my news feeds. That very day I started getting my application ready. I knew in my gut that this is where I belong.
I have worked for about a third of my life in some capacity at a Fringe Festival. While I will miss it dearly and the connections I made in Indianapolis, Orlando is where I belong. I am also excited to work for an agency with such a broad range of services. Many people think my background is in theatre, but it's actually health and human services.
What do you see as the Center's most important function/mission?
The mission of The Center is to promote and empower the GLBT Community and its allies through information, education, advocacy and support. I am a big proponent of inclusion (of everyone) and diversity and The Center is not just a place for the gay community, but for all of Orlando. Our straight allies are important and welcome there. The Center also gives back so much to the community, especially with the free HIV testing, which is available 7 days a week.
Do you have any specific programs or initiatives in mind to launch when you start?
The Center turns 40 in 2018. I am excited to help lead the organization through this milestone. I have to get back to Orlando and see the daily operations, review all of the programs and work with the board on any new initiatives. While I cannot give you specifics, I have a lot of ideas swirling around.
What did you miss most about Orlando while you were gone?
I missed the people the most and the sense of community. Orlando has always been good to me. It is home and sometimes you have to leave to realize just how good you had things. Oh, and the weather!
How happy are you to get back to warm weather?
I am originally from New Hampshire. I know cold weather. I just forgot how much I dislike it. I certainly don't sit on my porch and have my morning coffee and read the newspaper in Indiana. I miss the Florida sunshine.
Can we plan to see you at Fringe in May?
Yes, but I am also planning to get to the Winter Mini-Fringe in early January. And I was actually at last year's Orlando Fringe. I have not missed one since 2003.
Just Announced - THE GAY, LESBIAN, BISEXUAL, TRANSGENDER COMMUNITY CENTER OF CENTRAL FLORIDA ANNOUNCES NEW EXECUTIVE DIRECTOR

December 1, 2017 Orlando, Florida - The Board of Directors of The Gay, Lesbian, Bisexual, Transgender Community Center of Central Florida, Inc. (The Center) today announced that George Wallace has accepted the position of Executive Director of the nonprofit.

No stranger to Central Florida, George was the previous Executive Director of the Orlando Fringe Festival, the oldest festival of its kind in the United States. George led Orlando Fringe from 2007 until early 2017 when he left to become Associate Director of Indy Fringe in Indianapolis.

George has a degree in behavioral science from Granite State College (New Hampshire) and a Master's degree in public administration from Troy University (Alabama). He has also completed the Mini-MBA and a Nonprofit Leadership program at Rollins College. George spent many years as a social worker, working with children and adults with developmental disabilities and has served on the Center Board.

"When I saw the Executive Director position become available at The Center, I immediately jumped at the chance," said George. "This is a wonderful opportunity, not only to return to my home and the city I love, but to work for such an established and crucial agency. I am passionate about the mission of The Center and look forward to working alongside its Board, staff, volunteers and other community leaders."

"The Board of Directors is very excited to work with George again" said Jeff Buak, Board President. "We believe he is just the right person, at just the right time, to lead The Center to meet its mission, but also to help expand The Center's services and programs to the LGBTQ community."

George's first day at The Center will be December 18. The Center's Board of Directors will host a welcome "meet and greet" reception with him on Thursday, January 11 from 5:30 pm – 8:00 pm at The Center.