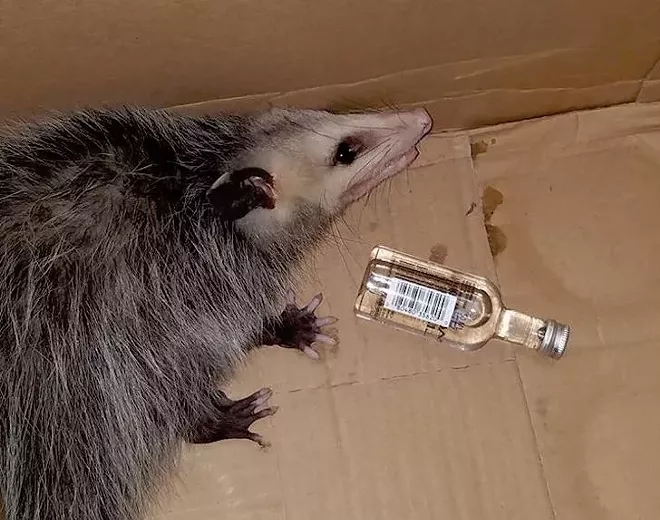 Photo via Emerald Coast Wildlife Refuge/Facebook
Welcome to the Sunshine State, where the tourists and elderly flock, the beaches are idyllic, and the animals like their bourbon.
A female opossum was found in a Fort Walton Beach liquor store shelf next
to a broken and empty bottle of bourbon.
The critter was taken to
Emerald Coast Wildlife Refuge
by a Fort Walton Beach police officer on Nov. 24 (the morning after Thanksgiving), according to the animal rescue's Facebook page.
"She came in from the outside and was up in the rafters, and when she came through she knocked a bottle of liquor off the shelf," said the store's owner, Cash Moore to
Panama News Herald
. "When she got down on the floor she drank the whole damn bottle."
Michelle Pettis, a technician at the wildlife refuge, told the
Northwest Florida Daily News
the opossum was disoriented, pale and salivating excessively.
Don't worry; the opossum is unharmed and was released by the animal rescue after sobering up.
Perhaps all she needed was some ginger ale and a nap.