THIS LITTLE UNDERGROUND
The Obsessed and Druid Lord, Will's Pub, Dec. 4

Susie Constantino
The Obsessed
Although it could be said of practically anything that involves
Scott "Wino" Weinrich,
the
Obsessed
is a band that packs heavy cult cachet. They both predate and postdate his landmark work in legendary doom band
Saint Vitus
during their prime era.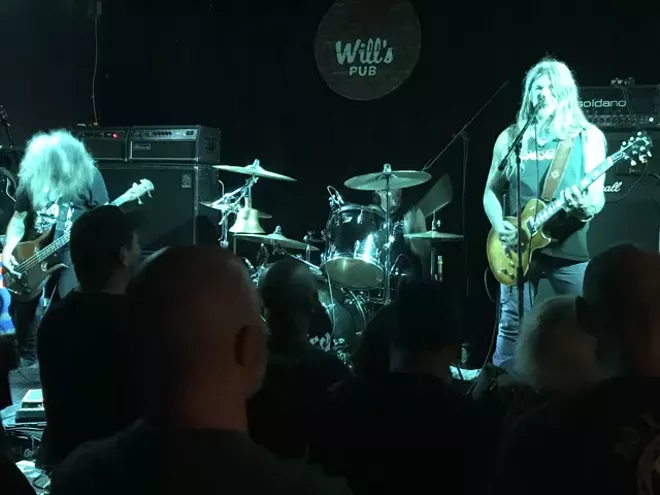 The Obsessed at Will's Pub
Now, after some reunion shows here and there, it seems the Obsessed are back in full effect, with 2017 seeing the release of their
first album in 23 years
(the boss
Sacred
) in April and the fresh November reissue of their eponymous 1990 debut album, both on
Relapse.
It's enough to make their arrival in Orlando a pretty big deal.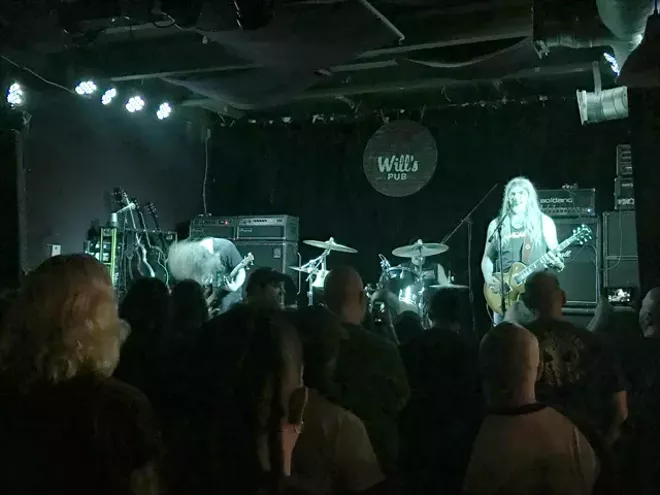 The Obsessed at Will's Pub
The Obsessed at Will's Pub
The Maryland doom dealers work from a perfect little pocket, wielding easy power with zero overreach. Their road-bound riffs are all leather and chrome, perfect in tone and pace, and built for maximum interstate conquest. Pump them through serious live gear like theirs and you've got an odyssey of
pure groan and fuzz.
Whether classic or new material, it all sounded great and, most impressively, eternal. The itinerant Wino, at least for now, is all in and full-time on the Obsessed. And after all these years, the blood once again runs deep and red as ever.
The Obsessed at Will's Pub
Opening was Orlando's
Druid Lord.
In metal, you simply cannot half-step with a name like that. And they didn't. Spikes, warlock-style guitars and skulls hanging off the mic (three of 'em, motherfucker) don't lie, y'all.
Nor did their death doom, which was heavy enough to get the heads banging so hard that making my way up to the stage was like a
hair gauntlet.
This is serious business, people.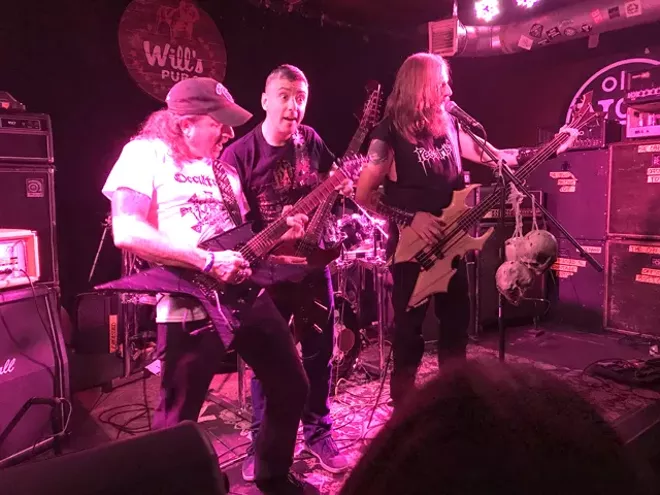 ///////////////////////////////////////////////////////////////////////////////////////
This Little Underground
is Orlando Weekly's music column providing perspective, live reviews and news on the city's music scene.



Follow Bao on Twitter (@baolehuu)
Email Bao: [email protected]